Barry Gibb has given a heartfelt eulogy at the funeral of his younger brother, Robin, talking of conflict between the two during the time leading up to his death.
He gave an indication of their fraught relationship, saying: "Even right up to the end we found conflict with each other, which now means nothing. It just means nothing.
"If there's conflict in your lives - get rid of it."
Robin Gibb's older brother, Barry, lays a flower in tribute
Barry also spoke of his younger brother's sense of humour saying: "There was no funnier man than Spike Milligan - apart from Robin. And his sharp, intuitive wit will live with us forever.
"You could stand Robin next to Spike Milligan and it would be a competition."
Referring to the late Maurice Gibb, who died in 2003, he added: "They were both beautiful. And now they're together. They're actually together. When you're twins, you're twins all your life. You go through every emotion. And they're finally together.
"I think the greatest pain for Robin in the past 10 years was losing his twin brother, and I think it did all kinds of things to him. And now they're together."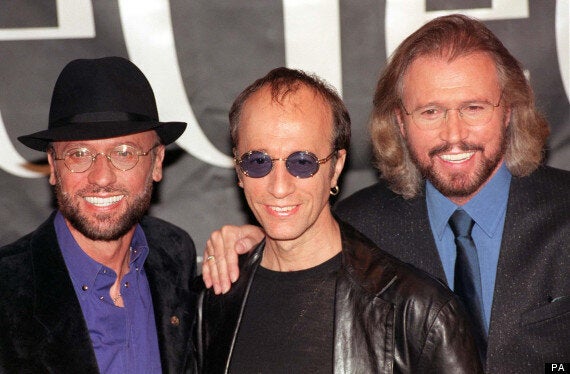 The Bee Gee brothers - Maurice, Robin and Barry
The funeral service of the late Bee Gee pop legend Robin Gibb took place on Friday in his hometown of Thame, Oxfordshire.
A sombre cortege, led by a lone piper and a dazzling white carriage carrying Gibbs' coffin drawn by four plumed, black Friesian horses, made its way through the town to St Mary's Church. A lone piper leads the funeral procession of Bee Gee Robin Gibb, as it leaves his home in Thame
As a tribute to his long musical career, the horses wore decorative black cloth emblazoned with a gold treble clef.
The cortege was followed by Gibb's two Irish wolfhounds, Ollie and Missy, together with friends and family.
In a statement, his family said that "at his wish, he will say a final goodbye to fans and his home town of Thame, Oxon, this Friday prior to the funeral".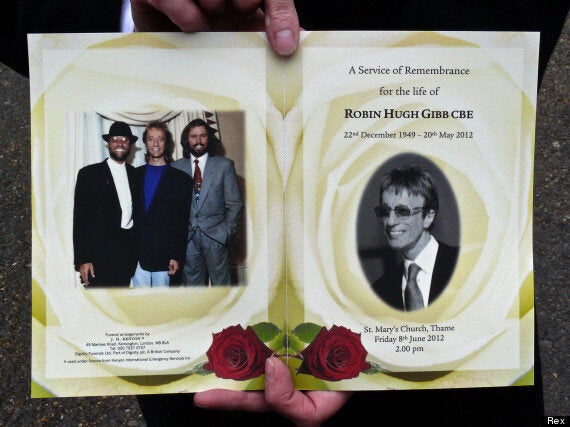 A copy of the order of service
The mother of Gibb's love child, Claire Yang, had been dissuaded from attending the service, media reports said earlier today. Gibbs' widow, Dina, had reportedly said that she would be devastated if she attended but would not turn her away.
The carriage left from Priests End in the town and travelled along the High Street to the town hall. It then returned through the High Street to St Mary's Church.
The family asked well-wishers and fans to use the full length of the High Street to avoid congestion. The coffin of Bee Gee Robin Gibb is brought to St Mary's Church
Two candles flickered at the front of the church as some guests entered in tears, to take their places on wooden seats surrounded by pink and white flowers.
Joining funeral directors as pallbearers were Gibb's sons RJ and Spencer, together with Stevie Gibb - Barry's son - and Steven Murphy, Dwina's son. Barry Gibb leads the pallbearers through the grounds of St Mary's Church
Gibb died from kidney failure last month after fighting cancer and pneumonia and suffering from a serious bowel condition.
His death drew tributes from across the music world but also from politicians including former prime minister Tony Blair, who was a close friend.
Gibb's music formed part of the service. His son RJ had already said that the Bee Gees hit I Started A Joke would be played at the church. A tribute in a shop window in Thame
And the track Don't Cry Alone - one of his final compositions from his Titanic Requiem, premiered only weeks before his death - was also played.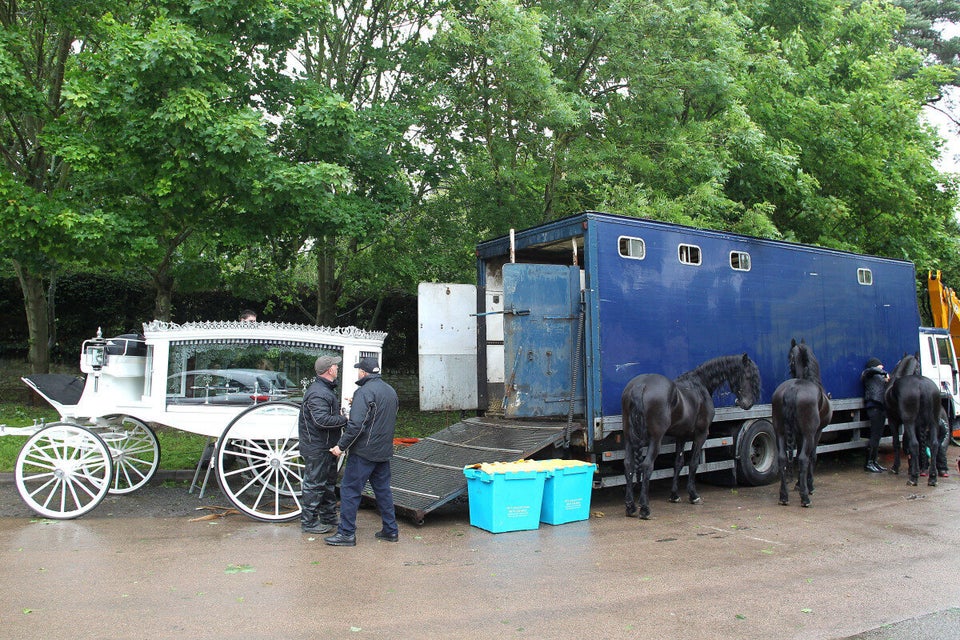 Robin Gibb Funeral
Robin Gibb's life in pictures...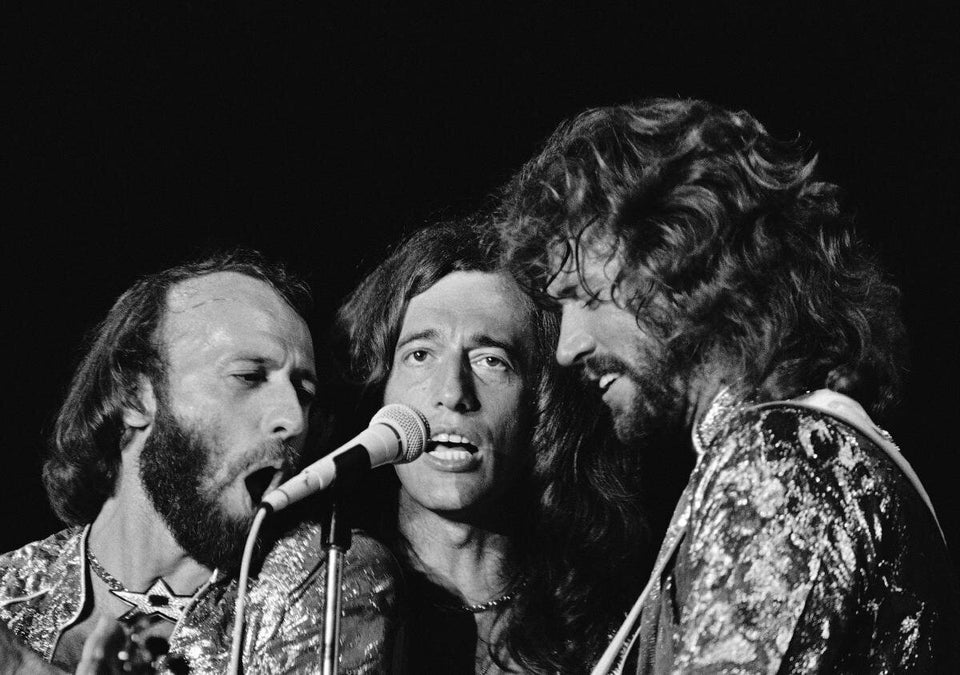 Robin Gibb Has Died After A Battle With Cancer