Thousands of fake Olympic goods have been seized at ports and airports across the UK in the run-up to next month's Games, the Border Force said today.
More than 7,000 fake Olympic bags, 500 fake cigarette lighters and 400 fake vests make up the relatively modest haul seized by officials.
Home Office Minister Damian Green said: "Counterfeiting is not a harmless crime but a criminal enterprise posing a serious economic threat estimated to be worth around £1.3 billion in the UK each year.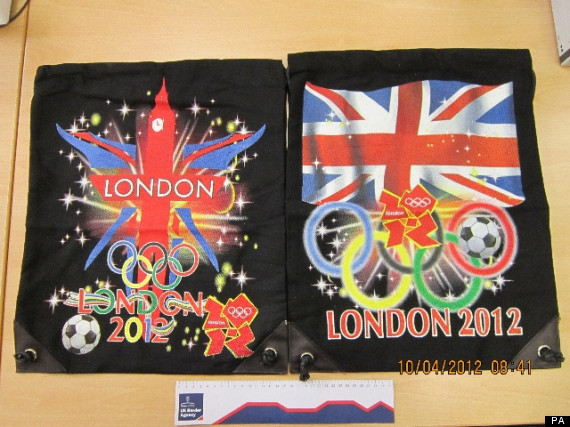 The UK Border Force has seized thousands of fake gods in the run-up to the games
"In this Olympic summer our officers have utilised intelligence sources, scanner technology and search techniques to successfully thwart those seeking to illegally profit from the Games.
"Border Force officers at ports and airports around the UK help monitor inbound freight to safeguard our communities from the illegal import of harmful items such as drugs, weapons and counterfeit goods."
Chris Townsend, commercial director of London 2012 organisers Locog, added that fake goods "undermine our ability to raise the revenues needed to stage" the Games and are also likely to fail quality and safety standards.
The biggest haul of fake Olympic goods came at the Felixstowe port, where more than 7,000 fake Olympic gym bags were seized in mid-April.
Border Force officers there also seized 540 Olympic-branded cigarette lighters.
At Dover, 432 Olympic-themed vests were seized on May 8 and at Coventry's international postal hub 15 fake Olympic Adidas football shirts were seized on March 30 while a total of 90 fake Olympic Polo Ralph Lauren shirts were found in parcels in mid-April.
At London's Heathrow airport, 100 kilograms of fake Olympic holders for tickets were detected in freight on May 19.