Malin Akerman stole the show on London's red carpet for the premiere of Rock the Ages on Sunday.
The Swedish-Canadian actress, best known for her roles in Watchmen and Wanderlust, towered over almost all of her co-stars, including Tom Cruise, Diego Bonata and Russell Brand, as she wowed the crowd in a sparkly nude dress, teamed with tottering gold shoes, and a bright red lipstick.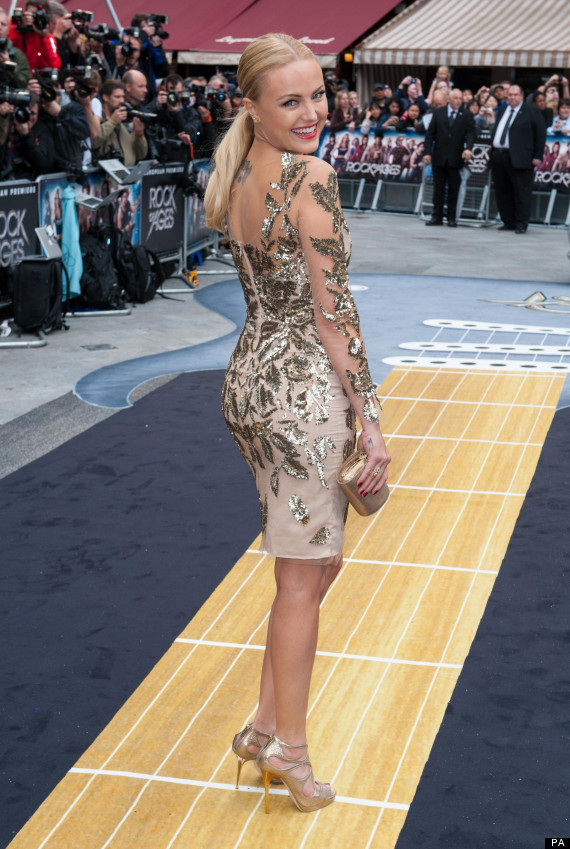 And she proved a delight to talk to as well, telling reporters exactly what they wanted to know, how did she prepare for her scene in the film as a Rolling Stone journalist seduced against her will into a steamy encounter with rock star Stacee Jaxx, played by Cruise?
"Yep, lots of working out was required," she agreed. "I'm going to be naked on a pool table with Tom Cruise? Right, back to the gym..."
More pictures of Malin...
Malin Akerman at Rock of Ages premiere
And Akerman had to go even further and poke her tongue, quasi-erotically, into the ear of Stacee Jaxx - so what did that taste like?
"It was a delight," she grinned. "He tasted like cotton candy."
MORE: Tom Cruise Tells HuffPostUK About The Challenge Of Playing The World's Biggest Rock Star
Rock of Ages stars come out on the red carpet...
Malin Akerman at Rock of Ages premiere