Which ever anti-ageing lotions and potions Tom Cruise is using, we'd like some please. It was like the clock had turned back two decades as he attended the UK premiere of Rock Of Ages last night.
The star looked the spitting image of how he did 26 years ago in his breakthrough role in Top Gun, as he walked the red carpet at London's Leicester Square. He even sported a pair of aviators, looking just like his iconic character Lieutenant Pete 'Maverick' Mitchell.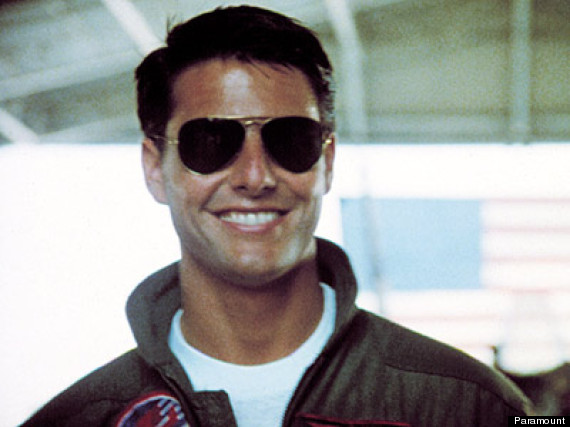 And with his wrinkle free complexion and pearly whites, Tom made it hard to believe he is celebrating the big five-oh next month. At the premiere Tom told HuffPost UK Entertainment, that opening his mouth to sing for his role as Stacee Jaxx in Rock of Ages was up there with the scariest things he's done during his career.
"This was different, but it's definitely up there," he said.
"The singing, I spent five hours a day, I spent hours dancing every day, I read a lot of books, I called my friend Cameron Crowe, and he gave me books, biographies, not just from that time period, but the history of rock and roll... different stories about bands, and hearing what they went through, and looking to find common denominators for that rock and roll lifestyle.
"This is a character that you can't go half-way with. So, it wasn't scary, it was fun."
The film, which tells the story of a young couple falling in love in a 80s' nightclub, also stars Russell Brand, Catherine Zeta Jones and Alec Baldwin, and is in UK cinemas on Friday.
READ MORE:

> Rock Of Ages Review: Tom Cruise Comes Of Age As Rocker Stacee Jaxx, A Wounded, Six-String Warrior

> Malin Akerman Steals The Show In Nude Sparkler, Reveals What Tom Cruise Tastes Like

> Tom Cruise Tells HuffPostUK About The Challenge Of Playing The World's Biggest Rock Star