"I gave one of the Toyota boys a little kick the other day at the Le Mans test weekend. Turned out it was my old number two mechanic from the F1 days."
Those whose motorsport memories stretch back to the late '90s and early 2000's might remember when Allan McNish joined Toyota in 1999, the year after the first of his two Le Mans victories. His association with the Japanese marque continued with its Formula 1 programme and left the Scot with some happy memories. But sentiment in racing is for the past not the present.
"Now I want to beat them, not help them win," the Audi man told The Huffington Post UK as he looked forward to his 10th Le Mans with the manufacturer that has dominated the race for the past decade or more.
McNish returns to the famous Circuit de la Sarthe this weekend (16/17 June) as one-twelfth of Audi's biggest assault yet on the 24 Hours with no less than four cars on the grid backed by a small army of support staff.
"There were 180 Audi people at the pre-test," he says, "and that's before all the marketing and admin guys joined us."
With such investment and resources behind them, it's perhaps not surprising that Audi have won 10 times at Le Mans since 2000, the second most successful manufacturer; and after Peugeot pulled out at the beginning of 2012 to throw the inaugural FIA World Endurance Championship into disarray, the favourites tag won't be going anywhere soon, even with Toyota's return. But, McNish refuses to discount their new rivals' potential even though the Toyota TS030 HYBRID has yet to turn a wheel in race anger.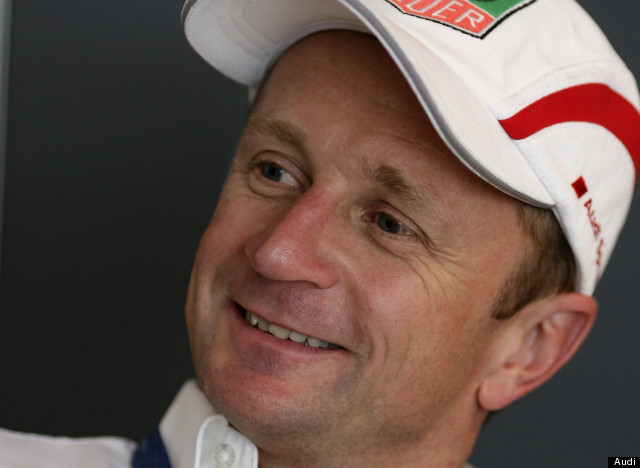 McNish is the UK's leading sportscar driver and a triple American Le Mans Series champion
"What's important is the factory element," he says, referring to the backing the team has as it renews its attempt to claim the one trophy sorely missing from its cabinet.
"The test weekend will have been positive from their point of view. They were reliable and had a high top speed. They were five or six seconds quicker than us.
"The battle will be with Toyota. It's fantastic to have them here. When Peugeot pulled out, it was a huge disappointment."
Although McNish is racing a new car at Le Mans, the R18 e-tron quattro which like the Toyota has yet to race over 24 hours, he insists the pressure to succeed rests with Audi rather than their new rivals.
"Audi is in a different position. We have won Le Mans a few times before. If we don't win it, questions will be asked why not."
The winning culture is something that runs throughout the team from drivers to backroom staff, so where does that motivation come from?
"Much of it comes from [Audi Motorsport boss] Dr Ulrich. He's instilled it in the rest of the team.
"It's an engineering-led company. Many of the guys at the top are doctors of engineering and that whole engineering battle gives them a bit of a kick. Whilst most execs might be thinking about share prices, they're thinking 'we're at Le Mans, how are we going to win this race.' They're living it with you.
"Last year after two of our cars crashed [McNish and team-mate Mike Rockenfeller both had huge accidents], they didn't pack up and go and have a beer, they gave their support to the remaining car. And we won.
"Mind you, they expect you to win!" McNish was fortunate to walk away from this crash at Le Mans last year
That victory was one of the closest in Le Mans history with just 13 seconds separating the second place Peugeot and the winning R18 of Andre Lotterer, Benoit Treluyer and Marcel Fassler. This year the trio join McNish, Tom Kristensen and Rinaldo Capello in the new diesel hybrid while the other two driver line-ups stick with the more conventional turbodiesels, the R18 ultra. After one race in the e-tron quattro at the Spa Six Hours race, where he finished fourth, how does McNish see events playing out at Le Mans?
"Reliability will be key. We've got a complex piece of technology that has to be race proven over 24 hours. The car has to be adaptable, for example set-up for the first 20 minutes might be different to the last 20 minutes.
"If it rains, that might help. We found at Spa the car was very quick in the wet, so we know we can put the power down."
Final preparations for the race came at test weekend, where McNish set the fastest lap times of all the runners.
"Yes, quickest was nice. That's more of an ego thing but I came home pretty happy. It's an improved car from last year, a big step forward. As for the quattro aspect, we have to adapt to its requirements and understand that, but it's a pretty good base."
This year's twice-around-the-clock race is the third round of the WEC. Victory at the Sebring 12 Hours and fourth place at Spa left McNish trailing his Audi team-mates Romain Dumas and Loïc Duval by just two points after two races.
With 50 points on offer to the Le Mans winning drivers, McNish has the double incentive of a boost in the eight-race WEC which concludes in China in November as well as a third Le Mans win. As a triple winner of the American Le Mans Series, once the leading sportscar series in the world, the chance of a world title is a real motivator.
"I found it odd there was no drivers championship when we had the Intercontinental Le Mans Cup," McNish says, adding: "A drivers championship is what we need.
When you have a chance to be world champion, you give it everything you've got."