Damp, cold and misty, RockNess music festival in Dores, on the shores of Loch Ness, drew to a close on Sunday night with a rousing performance from Scottish natives Biffy Clyro.
Despite the hostile Highland weather conditions, festival-goers abandoned the slightly warmer sanctuary of the many pop-up bars in tents and indoor arenas to party to the band's headline performance on the main stage, and the band's members had their tops off from the get-go in crowd solidarity.
Bright fireworks closed the festival, as revellers with neon face paints, an array of costumes including pirates such as Jack Sparrow, Loch Ness monsters, a Borat-style mankini and one giant inflatable penis, jumped around among the chip wrappers and discarded plastic cider bottles.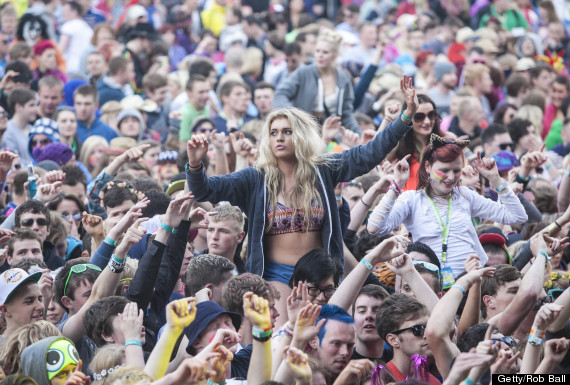 And this wasn't the only show of flesh on display during the three-day event. From a naked man dancing on top of a wheelie bin, to a woman streaking through the hills alongside the festival before being tackled by security, inhibitions were most certainly let loose during RockNess.
Music highlights included a spectacular performance by Ed Sheeran, a danceathon from the Friendly Fires, and Metronomy's keyboard and guitar showdown.
However, festivities were marred by the death of a 19-year-old boy named Alex Heriot on Saturday, after a suspected overdose on legal-highs. 
During his crowd-pleasing set on Sunday night, DJ Zane Lowe asked the crowd to put a peace sign up in the air for the boy's family and warned crowds to stay safe, as two other festival-goers remained in hospital after apparently taking 'legal high' Benzo Fury.
From as early in 10am in the morning, I witnessed festival-goers stumbling around dazed, very apparently on drugs, and watched as others were carried off on stretchers to the medical tent, despite a strong police presence and a sniffer dog search when we arrived at the festival.