A Channel 4 investigation into online social gaming site Habbo Hotel alleged that it is a "Mecca for paedophiles" – and now major UK high street retailers have stopped selling gift cards for it.
Habbo Hotel, which is aimed at children, has around 250 million users worldwide, with 300,000 of them in the UK.
It's used as an animated internet chat room, but the claims by Channel 4 News that it's regularly inhabited by perverts has led to Tesco, WHSmith and video game retailer GAME stopping all sales of gift cards for the site.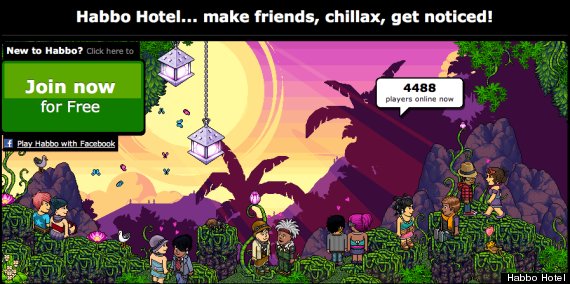 "Mecca for paedophiles": Habbo Hotel
The site works by users adopting an avatar and chatting with other people inside the "hotel".
Virtual furniture for users' individual rooms and items of clothing can be bought for real-world money, often through £10 gift cards.
The site is used by children as young as nine – but Channel 4 News claimed that it visited the site 50 times over two months using a fake avatar and was propositioned every single time.
The programme's producer, Rachel Seifert, who took part in the investigation was horrified by what she experienced.
She said: "People were saying they were going to do things to other people or themselves. People were having sex with me without my permission. Or doing things to me without my permission.
"In public, men would come up to me and say they were doing all these sorts of things to me and my body without me asking.
"They would walk up to my avatar and say 'hello, I'm grabbing your breasts'."
Within minutes of her visits she was asked to talk directly to people on the site who had made lewd remarks.
Following Channel 4's broadcast on Tuesday night, Tesco, WHSmith and GAME all stopped selling Hobbo Hotel gift cards.
WHSmith said in a statement sent to The Guardian that it was "concerned to learn of the Habbo Hotel allegations".
Paul LaFontaine, the CEO of Sulake, the company that runs Habbo Hotel, tweeted that all conversations had been muted while the claims were investigated.
Habbo Hotel uses human moderators to police conversations - over 200 of them - but UK technology company Crisp Thinking believes it has a better system.
It has pioneered software it claims can isolate innocent users from bullies and online predators.
In a pilot project with the Metropolitan Police, Crisp's 'predator detection' was used to save the force hundreds of man hours by sifting through a dangerous paedophile's 5,000 web chats and identifying his vulnerable young targets.
Acting Detective Chief Inspector Noel McHugh, from the Met's Paedophile Unit, said: "The message is clear, we will use all lawful methods to capture paedophiles, and we are constantly looking for technological solutions to apprehend the most dangerous offenders and to safeguard the most vulnerable.
"We faced a mammoth task in reading through over 5,000 logs, some running to pages. For an officer to manually read every page would have taken a considerable amount of time."