When Jodie Marsh unveiled her new physique last year revealing she was now a bodybuilder, the nation's collective jaw dropped.
But despite the cynicism, it turns out Jodie is actually quite good at the whole flexing her muscles on stage thing, and is really making waves in the world of bodybuilding. Jodie competes in the Natural North America Bodybuilding Championships
She has just won gold at the International Natural Bodybuilding Federation (INBF) Natural North America Bodybuilding Championships (catchy).
The former Celebrity Big Brother star - who recently revealed she'd contemplated suicide after appearing on the show - took to the stage in her brown body paint, flexing her muscles to a routine choreographed by Britain's Got Talent runners-up Twist and Pulse.
SEE ALSO:
Soon after lifting the trophy Jodie was raving about her win all over her Twitter page.
She thanked her fans for their support on the social networking site, writing: "Thank you so so so much everyone. Can't believe how many amazing and lovely comments!! I'm so happy I did the UK proud! #INBFChampion".
She tweeted a series of pictures of herself striking a pose at the championships, which showed off her lean figure.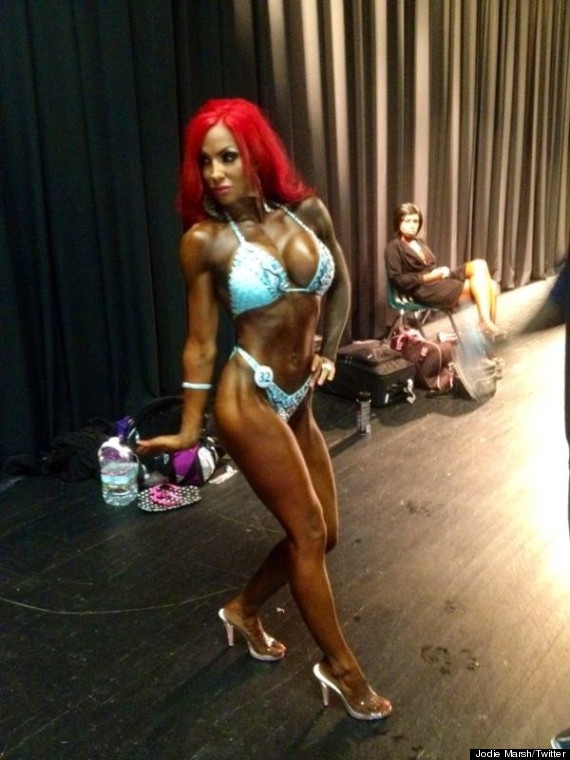 Since beginning her bodybuilding quest last year, the former glamour model now weighs in at 8st 2lbs and is a size zero (a UK size four)
Her win is set to feature on her new TV show Jodie Marsh: Brawn In The USA, which follows the star on her American adventure and is set to air later this month on DMax.