This shocking image shows the moment "naked cannibal" Rudy Eugene was shot dead after gnawing on the face of homeless man Ronald Poppo.
The harrowing shot shows a nude Eugene sprawled on the pavement in a pool of blood, with the mutilated Poppo lying alongside him.
Scroll to the end to see graphic image of Eugene and Poppo, as well as recent images of Poppo, and a pixellated shot of his injuries immediately after the attack (WARNING, GRAPHIC CONTENT)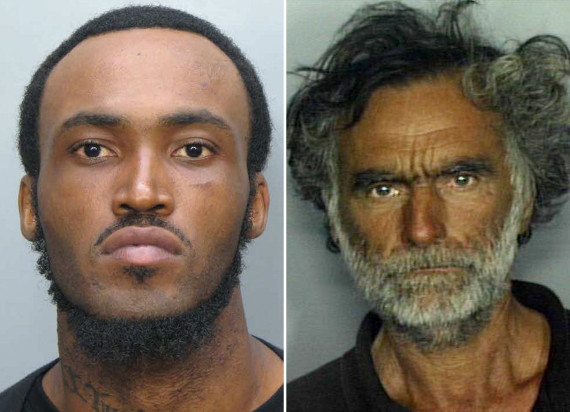 Ronald Poppo (right) and Rudy Eugene, left
Poppo is bloodied and naked from the waist down, as horrified police officers stand in the background.
Poppo was rushed to Jackson Memorial Hospital in a critical condition, but allowed two pictures of himself to be released on Tuesday.
The pictures reveal one of his eyes was lost to the attack while the other is covered by gauze. Poppo's nose is missing and his forehead is a mass of scabs.
Doctors told the press approximately 50 per cent of his face is missing, that the patient remembers the attack, understands he is in hospital and is aware of the media coverage.
Although a toxicology report on Eugene is still pending, there is speculation he was on a drug known as "bath salts" when he attacked Poppo.
Armando Aguilar, president of the Miami Fraternal Order of Police, revealed his theory, adding users "go completely insane and become very violent."
The drug, which is banned in many states, can cause severe agitation, rapid heart rate, high blood pressure, paranoia and symptoms of psychosis, including hallucinations and delusions.
It can also lead to overheating of the body, which is why so many users remove their clothing.
SEE ALSO: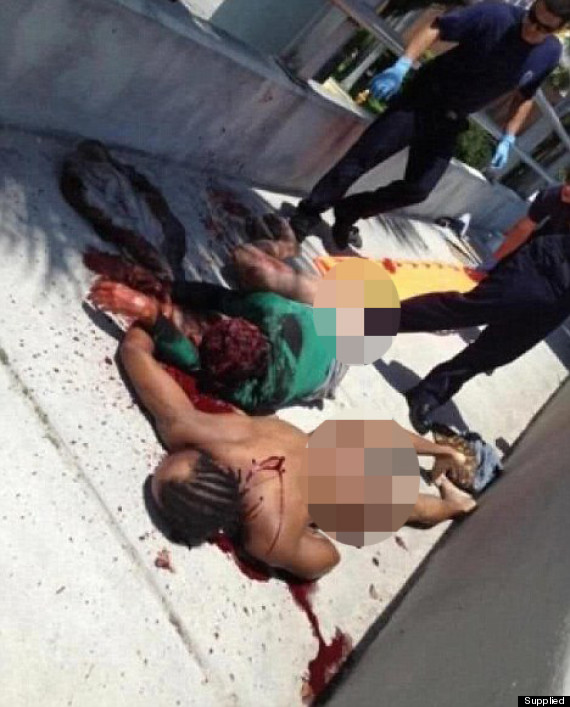 Eugene and Poppo lie on the ground in the aftermath of the attack
HOW YOU CAN HELP: The Jackson Memorial Foundation has set up a fund to assist Ronald Poppo in his recovery, which experts in facial reconstruction have said will include lengthy treatment, staged reconstruction, and psychological care. Donations can be made by check or online at jmf.org.
'Naked Cannibal Attack' In Pictures (WARNING, GRAPHIC IMAGES)