A woman who beat and choked her three-year-old son while apparently high on the synthetic drug "bath salts" has died after being tasered by police.
Pamela McCarthy was spotted running naked through the streets of Munnsville, New York, early on Wednesday morning.
A neighbour captured a harrowing picture of the 35-year-old rushing towards her partner, Jason Williams, as he fled with their son in his arms.
The witness told WSYR-TV: "She was still chasing people, just running back and forth around the street and she got hold of one of her dogs and she was rolling around on the ground with her legs wrapped around it, she was strangling the dog."
Police used pepper spray in an attempt to restrain her before tasering her. The New York Daily News reports officers found her to be "violently combative" and were initially unable to handcuff her.
McCarthy is said to have gone into cardiac arrest and later died in hospital.
Scroll down for police conference and eyewitness account video
SEE ALSO: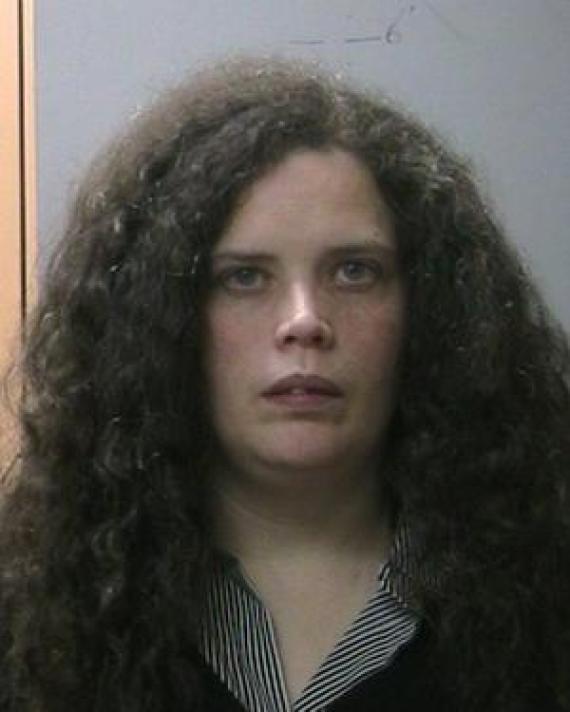 An undated police mugshot of Pamela McCarthy
In a video posted by the Oneida Dispatch, New York State Police Captain Rodney Campbell told reporters on Wednesday: "She really was not coherent to what was occurring around her."
He revealed McCarthy had been arrested previously for endangering the welfare of a child, disturbing the peace and resisting arrest. He said the official cause and manner of death were still dependent on the results of toxicology tests.
He added: "Based on our investigations she has had a history of the use of bath salts. We have responded in the past when she has been under the influence of the bath salts.
"Indications to us based upon her history and interviews at the scene are that she was most likely under the influence of bath salts."
Neighbour Heather Ames told YNN-TV: "We heard growling… and a kid crying so we went outside and opened up the door. There (McCarthy) was, lying on the ground holding her three-year-old kid in her arms and just beating him."
David Bridge, 15, also witnessed McCarthy's rampage. He told the Syracuse Post Standard: "She hit concrete after falling down a flight of stairs and got up like nothing happened. When she got up it was like she was in a stupor."
McCarthy's son was treated for minor injuries at Upstate University Hospital, in Syracuse, before being released into the care of family members.
State Police say the Madison County District Attorney's Office has been consulted and plans to present the case to a grand jury following an investigation.
It has been speculated McCarthy was on the same drug as 'Miami cannibal' attacker Rudy Eugene, who was shot dead by police last month.
Although a toxicology report on Eugene is still pending, it is widely believed he was using bath salts when he partially chewed off the face of homeless man Ronald Poppo.
Armando Aguilar, president of the Miami Fraternal Order of Police, revealed his theory, adding users "go completely insane and become very violent."
The drug, which is banned in many states, can cause severe agitation, rapid heart rate, high blood pressure, paranoia and symptoms of psychosis, including hallucinations and delusions.
It can also lead to overheating of the body, which is why so many users remove their clothing.
Earlier this week former bath salts addict Freddy Sharp allowed CNN to broadcast a video of him overdosing on the drug, describing it as "the evilest thing".