Fresh from making waves at this year's Tony Awards in New York, James Corden enjoys the waves of Miami with fiancée Julia Carey as they take a break in the Florida sunshine.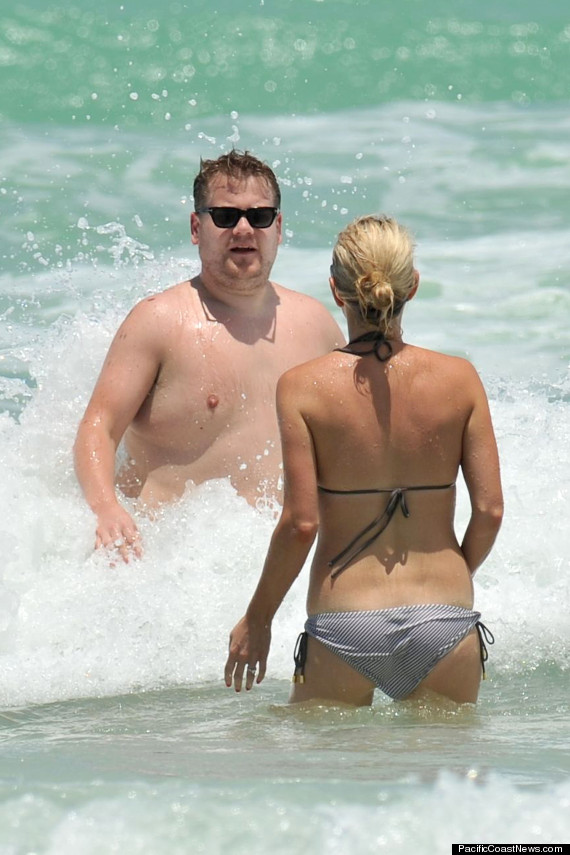 While James looked like the typical Brit abroad in his bermuda shorts, Julia rocked a striped bikini as they both went for a splash about in the sea to cool off.
He recently told Piers Morgan that he thought Julia was 'too attractive' for him.
"She's far too attractive for me," he said. "That's why I made the sensible choice of getting her pregnant and then proposing." James beat Philip Seymour Hoffman, James Earl Jones, Frank Langella and John Lithgow to bag himself the Best Actor Tony for his role in One Man, Two Guvnors on Broadway. He choked back tears as he paid tribute to Julia during his acceptance speech, saying: "My girlfriend Julia gave birth to our son like, five days before we started rehearsals.
"She's my baby mama, and I can't wait to marry her. Seriously, I would not be holding this if it wasn't for her.
"She makes me say "us" instead of "I" and "we" instead of "me", and I love her. Thank you very much." Next up for the Brit actor and comedian is a role in the forthcoming film, Can A Song Save Your Life?, which he'll be starring in alongside Keira Knightley.
He has also co-written the upcoming biopic about Britain's Got Talent winner Paul Potts, which he will also star in.