Having starred in some of the most important productions of British theatre, notably the RSC commissioned Educating Rita in 1980, award-winning screen and stage actress Julie Walters has returned to the National Theatre after a decade's absence to star in Stephen Beresford's debut play The Last of the Haussmans.
Plain speaking and full of joyfully outspoken liberal views, Walters plays Judy Haussman; everyone's ideal eccentric relative. Having lived through life's rich tapestry with gusto, Judy has experimented in free love, drugs and social revolution, but her unconventional mothering has taken its toll on her adult children.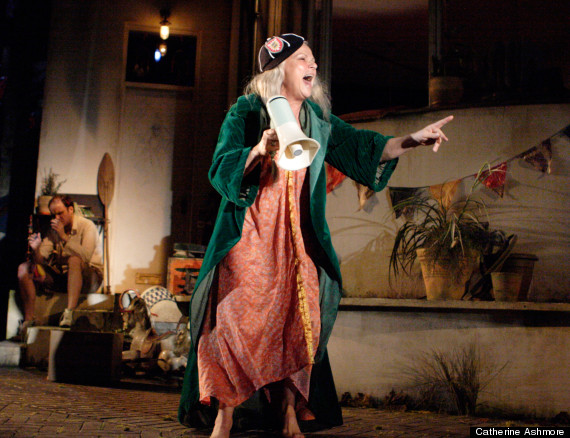 Rory Kinnear (Nick) and Julie Walters (Judy)
Nick (Rory Kinnear) is a recovering alcoholic and heroin addict, whilst Libby (Helen McRory) has a track record of pursuing damaging relationships whilst drifting through the world with her teenage daughter, Summer (Isabella Laughland), following resentfully in tow.
A family of estranged misfits, the Haussmans are finally reunited at their family home as Judy starts treatment for melanoma. Assisted by Peter (Matthew Marsh), the over-friendly local doctor, the family try to support each other for the upcoming ordeal of cancer treatment, whilst a brooding local teenage boy, Daniel (Taron Egerton), turns heads when using their swimming pool for training sessions.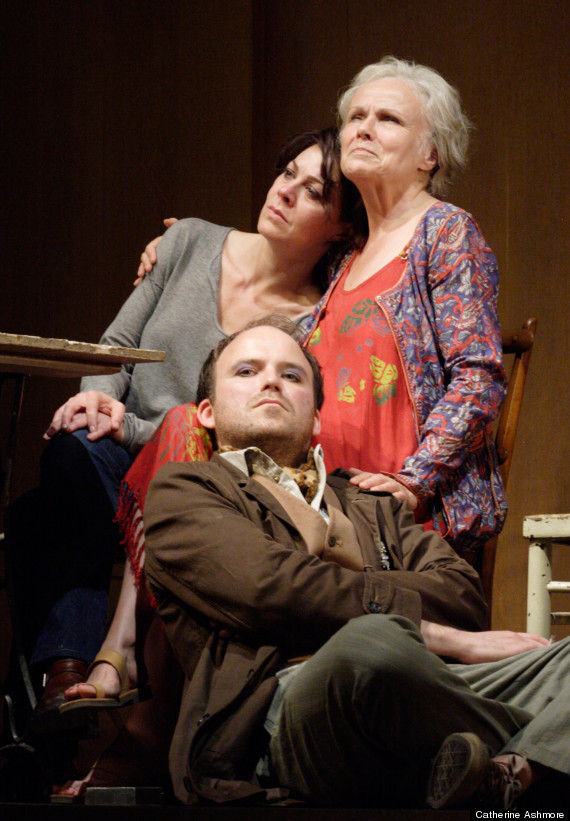 Helen McRory (Libby), Julie Walters (Judy) and Rory Kinnear (Nick)
As her children discuss her arrival in the opening scene, the anticipation for Walters' appearance on stage is palpable in the audience. Before she utters a word after her entrance, there are titters – Walters is a funny woman without even opening her mouth.
In a role written with her mind, Walter's exudes invigorating energy on stage, relishing her part as a wise matriarchal hippy, bellowing enthusiastic nuggets of wisdom to her weary children: "The best thing to be is a rebel!"
As a firm favourite in British television, there will always be comparisons to her onscreen antics – there's a touch of the stooped Mrs Overall from Acorn Antiques creeping into her performance.
Walters' lively acting aside, the stand out performance is from Isabella Laughland playing Summer, the headstrong 15-year-old who must endure the selfishness of her mother and Uncle – her direct teenage angst adds spice to a play that gives a lot of dialogue to two unlikeable selfish siblings.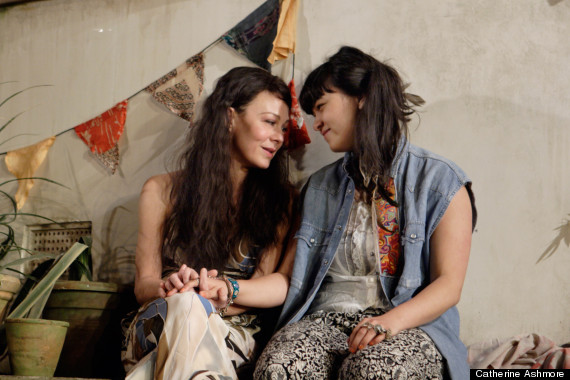 Helen McRory (Libby) and Isabella Laughland (Summer)
There is a seventh character in The Last of the Haussmans; the six actors on stage and a silent inanimate character that looms throughout - the sprawling Art Deco house that Judy owns on the picturesque Devon coast.
Living like a hippy in a commune, Judy has clung on to her property for decades as the surrounding seaside homes rise in value, bought and sold to millionaires and celebrities. Judy's overgrown home is the yellowed tooth in the affluent area of whitewashed luxury properties, a fitting metaphor for her unconventional living.
The house is a gilded cage for the family – binding them together in shared memories, yet tearing them apart emotionally as they fight for its ownership.
The set itself is outstanding in detail and impressive in scale and grandeur. With the building playing such a pivotal role in the Haussman household, it feels overwhelming in a play that is essentially about fraught relationships.
It is ironic that Judy's parenting lessons of self-expression ultimately gave her children no boundaries or restraint with which to lead happy lives. Beneath the veneer of hippy freedom, the Haussmans are selfish and vulnerable, but on a journey of discovery.
With serious illness looming over her, Judy puts her sputtering energy into teaching her adult children the importance of courage and freedom from material ties, with one last intriguing caveat...
The Last of the Haussmans is at the National Theatre until 11 October. The play will also be broadcast live to cinemas around the world on 11 October as part of National Theatre Live.
See below a slideshow of photos from the National Theatre's The Last of the Haussmans:
The Last of the Haussmans, National Theatre
Take a look at all of HuffPost UK's theatre reviews:
The Last of the Haussmans, National Theatre