The Spice Girls are set today to make their first public appearance together since they cut short their reunion world tour in 2008.
The famous five - Geri Halliwell, Emma Bunton, the two Mels and Victoria Beckham - will be coming together in London to launch Viva Forever, the stage-show based around their many hits.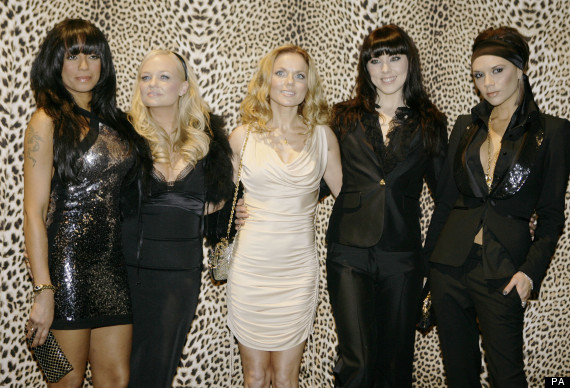 The Spice Girls haven't been together in public since 2008
The appearance of all five was only confirmed at the last minute, with Mel B and Victoria Beckham the latest names to be added.
Jennifer Saunders, who is writing the book to the musical, will also be present to announce the show, set for the stage in December.
MORE: Spice Girls - From Perky Popsters To Yummy Mummies
Getting all five in one place these days is a military achievement in itself, with everyone carving out distinct professional identities.
Both Mel B and Geri Halliwell have entered the reality show world, Mel with the cameras following her and her husband Stephen Belafonte around their Hollywood home, before she headed recently to Australia for a stint as an X Factor judge there. Geri has had slightly less success, being booed at her recent outing to the X Factor auditions in the UK.
Meanwhile, Emma Bunton has worked as a TV and radio presenter, while Mel C continues to perform solo, most recently at the Isle of Wight Festival, and in collaboration with other artists.
And Victoria Beckham has confounded her critics with a successful fashion line, seeing her clothes being worn by every A-lister from Carol Vorderman to Michelle Obama, and lots of her Hollywood friends in between.
None of the girls need to work again unless they are so inclined. As a group, they have sold more than 75 million records worldwide, and all are millionaires in their own right.
Along the way, there have been the inevitable fallings-out, ganging-ups, sulks and rapprochements - including Geri's dramatic departure from the band in 1998 - but this is a bunch of strong-willed females who have been linked closely to each other since 1994 when they first formed their record-breaking quintet.
MORE: The Spice Girls' Fashion Highs And Lows
Perhaps, like all families, it's a bit much to expect them all to get on famously, all of the time. Perhaps, like all families, just the fact of them managing to stay in the same room together 18 years later without throwing a wine glass, is achievement itself.
@HuffPostUKEnt will be tweeting live updates from the launch at lunchtime today - so stay tuned.
And here are some pics of the girls below...
Spice Girls Viva Forever Reunion: Fashion Highs And Lows