Geri Halliwell's Union Jack dress made headlines around the world, Melanie Brown's leopard print was legendary and Victoria Beckham's little black frocks became iconic - and now fans can get their hands on the Spice Girls' most famous clothes.
The stars, along with Emma Bunton and Melanie Chisholm, are raiding their wardrobes to raise money for charity.
The stylish - and some not so stylish - garments will be sold off at a gala to coincide with the launch of new musical Viva Forever!, which opens in the West End in December. The Spice Girls in their statement costumes in 1996
Fashion designer Victoria, mum to three sons and baby girl Harper, told The Mirror: "I've got all my costumes still.
"I can't wait for Harper to grow a little so she can have some. But the rest I'd like to put up for charity. I think it would be a fantastic thing to do."
And Posh Spice admits she became emotional after recently watching a retrospective tribute Geri made of the band.
She added: "Everything we did at the time was great, it really was great. We watched a little video Geri put together and I think we were nearly all brought to tears."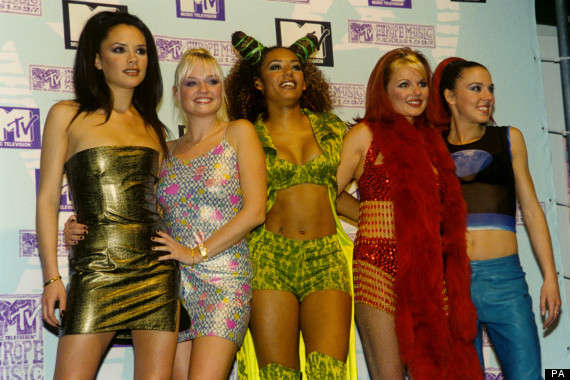 The Spice Girls in 1997 at the MTV Europe Music Awards.
The sale will be in aid of Save The Children and Children In Need. Unfortunately, Geri's Union Jack dress, which stole the show at the 1997 Brit Awards, is on display at the Hard Rock Cafe in Las Vegas. But the lots will also include tracksuits worn by Sporty Spice Chisholm and baby doll dresses belonging to Emma.
Spice Girls: From Perky Popstrels To Yummy Mummies