"Everybody always likes to talk about my plastic surgery, but the writer was being a little sensitive about that. I told him, 'Go for it, I don't care what you say about me, as long as you give me some back.'"
And he did. The fight scene between Dolly Parton and her screen nemesis Queen Latifah in Joyful Noise is a sight to behold.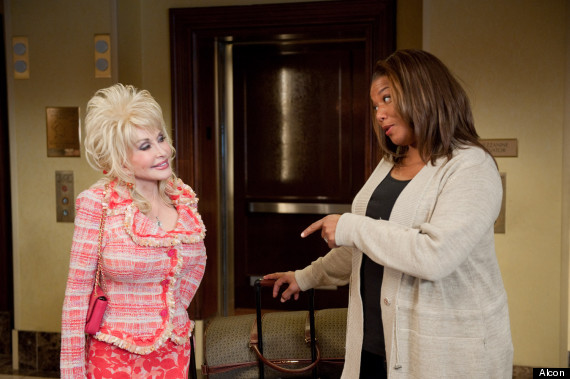 When Dolly Met Queenie...
The pair of them scream insults, many improvised, and throw punches at each other, even if the smaller Dolly did get the worse of it:
"It took three days to film," she reports. "It was lots of fun, but lots of food was thrown, as they had to shoot from every angle.
"And I was kind of sore after we'd finished filming our headlock, because she's a big girl. Looking at us was like watching an Amazonian holding a pygmy."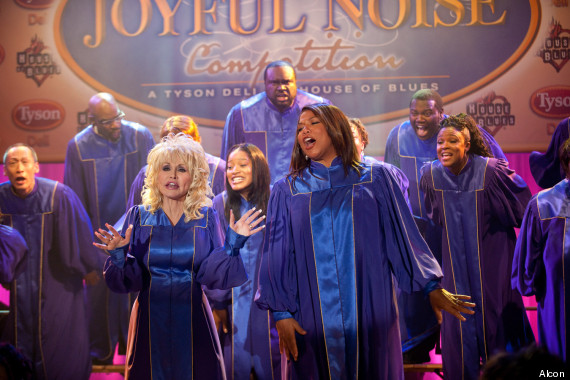 As you'd expect, Dolly and Queen Latifah make up with song
On screen, as in life, Dolly isn't down for long. The record-breaking singer and actress holds her own in this deep southern musical drama that sees a church choir having to hold its own in competition against stiff competition with deeper pockets and less internal squabbling. The film does exactly as it promises - kind of like an episode of Glee set in a Gospel Church - and once again showcases Parton's unique and enduring voice. And as ever, the stiffest critic is the girl from Tennessee:
"I spend my whole life trying to break my own records, but I always feel like I'm never good enough. You always try to be better, and you've always got competition, there's always somebody better than you.
"But you do have to pay attention, and try to work with the right people, and stay ahead of the curve.
"I've always been the person to sing and write from the heart, so much of it's come from what I feel, which isn't necessarily commercial."
So says the woman with sales of 100 million records under her rhinestone belt, and a catalogue of 3,000 songs to flick through. Time for a rest after this acting foray, plus last year's world tour, her most successful? Sort of…
"Right now, I'm being creative and spending time with my family – several brand new little grand nieces and nephews, little versions of their brothers and sisters (everything Dolly says sounds infectiously charming), so I've just been having a ball with them.
"Oh, and I'm writing a book, coming out in November, called Dream More, a very positive book.
"Oh, and the musical of 9 to 5 is coming to the UK in October. I'm in the show on video. That'll be very exciting."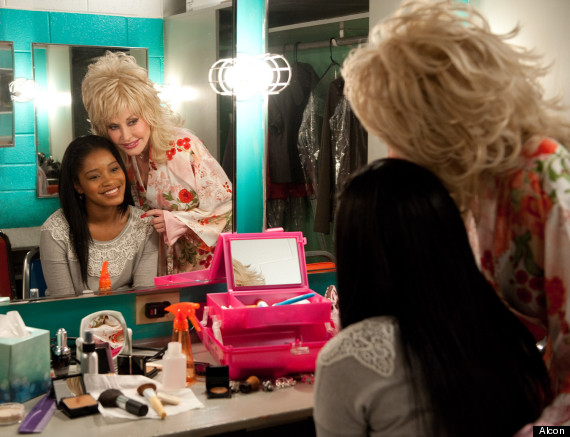 Dolly with her co-star Keke Palmer
Ok, that's time off sorted then. Add this to her management of her Dollywood Foundation, with its famous theme park in her native Tennessee, as well as the Imagination Library which has given away to date more than 40 million books to children before they go to school, you wonder how she keeps it all going. Her pride in her own coat of many colours is evident:
"I am proud of all of it. You never know when you start out how it's going to go. I think Dollywood is a wonderful thing, the chance to start a business in my home area, and employ a lot of my relatives too.
"But the Imagination Library has moved from my home state, to Canada, now the UK. So that's something, as good as anything I've ever done."
All of this has hinged on a musical outpouring that has earned her the epithet of Queen of Country Music, and included the Oscar-winning 9 to 5, as well as the spine-tingling I Will Always Love You. Does she ever worry that the creative well might one day dry up?
"It's never has run dry, so it's never once crossed my mind that I wouldn't be able to write. The only dry spell I hit is when I don't have the time, I never feel I've creatively gone dry, because everything's a song for me. It's just natural.
"I imagine I'll be doing that until my dying day, I've been doing it since I was a little biddy kid."
Dolly cut her first record at 10 years old, once her uncle Bill Owens had heard her sing and saw to it that she got the chance to perform at different places, and get her voice heard. These days, she'd no doubt be queuing up to boggle them on some TV reality contest, and Dolly is smart enough not to judge these too harshly in comparison with her own unique efforts:
"Years ago it might not have been the best way to go - you have to start at the top and work your way down, and it even looks bad if you don't win.
But the music business has changed so much since I started out. Everything's online, it's all out there in this new computer age, so I'm not so sure that it's a bad thing, that so many people get the chance to show off their talents, and it's very entertaining and worth watching."
Finally, who else is worth watching – are there any natural successors whom she thinks has got the singing and business chops to follow her into country legend?
She's fulsome in her praise of one in particular:
"I admire the way little Taylor Swift conducts herself, with her singing, song-writing and being responsible for her own business and image - and being true to herself and trying to keep herself in line, trying not to get strung out on drugs, alcohol and crazy men."
So spoken like a true southern lady.
Joyful Noise is in UK cinemas today. Watch the trailer below: