Just when you thought ideas for Diamond Jubilee photo-calls had dried up, along comes a giant Venus Fly Trap and a very dazed looking schoolchild.
The Duchess of Cornwall took her love of gardening to extremes on Monday when she met pupils from Pencoys Primary School at the Heartlands Art Exhibition in Cornwall.
She was shown the school's "Little Shop of Horrors" project which included the massive fly trap.
Camilla's face was a picture as a child imprisoned by the fly-trap looked rather dazed and confused, while another pupil simply looked shocked at the bizarre chain of events unfolding.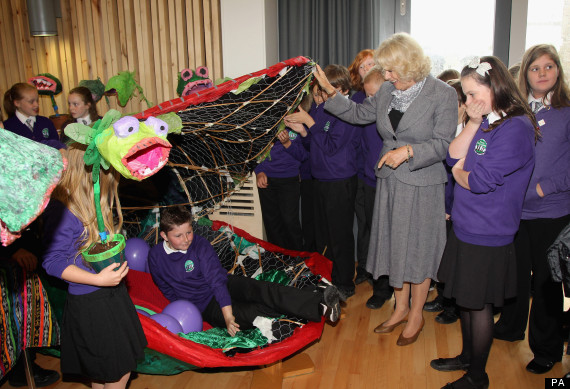 The Duchess looks delighted at the surprise inside, as a horrified child looks on
The Duchess also met a pupil who had grown a bulb as a head (see photos), while another had dozed off as he was clutching a flower pot (impressive).
Mick Holmes, who has taught at the school since its opening in 2003, said the Duchess seemed to enjoy herself as much as the children.
He told the Huffington Post: "The Duchess asked 'Ooh, do people get in there?' and so one of the children jumped in.
"They've been working on making the fly trap for about a week. When we told them the Duke and Duchess were coming down they thought we were joking."