Call yourself sporty? Unless you're a world champion approximately eight times over, you've got a way to go to match the sprightly bunch featured in documentary Ping Pong.
And if you thought you got competitive at the weekend once there's a football on your feet, or a rounders bat in your hand, try messing with this lot.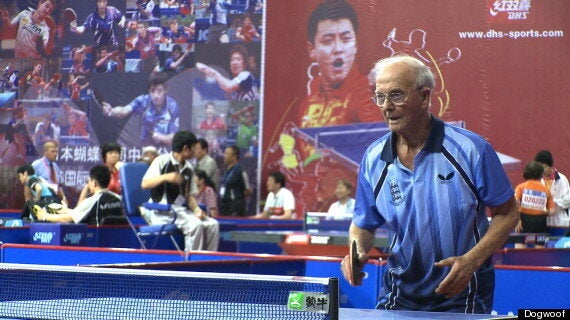 Les D'Arcy - still weightlifting at 89, to improve on his seven times world championship record
They're the world's oldest, agilest table tennis players, and they're off to China to compete in China in the Over-80s Table Championships.
Les D'Arcy bounds around on the balls of his feet. He's pushing 90 and pushing the bars like a Bulgarian weightlifter. Seven times world champion, he only slows down to recite a well-remembered ditty about pushing on, and his biggest obstacle comes in the form of his Nordic Nemesis - 85-year-old Swede Rune Forsburg... "how often does he play?" Rune tries to sneak some insider information from the film makers - and a misplaced bat, for which foreign skulduggery is suspected.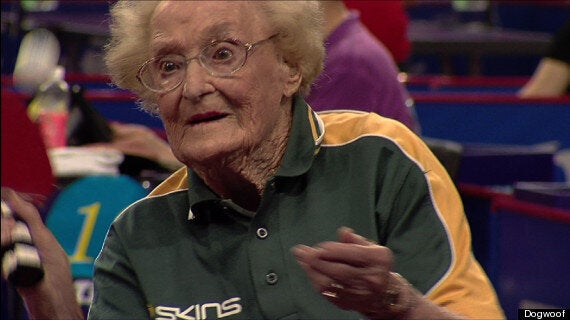 Dorothy's apparent lack of agility - she is 100 years old - shouldn't fool anyone
His longtime British comrade at the table is Terry, 85, who is battling health problems just to get on the plane.
And these two are spring chickens compared with Australian legend Dorothy DeLow - still batting, literally, at 100, being wheeled up to the table before surprising many comers with her skills.
Meanwhile, gunning for her is 85-year-old Lisa Modlich, Texan immigrant with a gun-toting toyboy. "He was only meant to be around for five years," muses Lisa of her companion, 20 years younger. "He was my Marshall plan."
These are four of the eight players featured in Hugh Hartford's extraordinarily uplifting documentary that follows them all preparing to compete at the highest level - all proof of the rejuvenating qualities of 'something to do, somebody to love, something to look forward to'.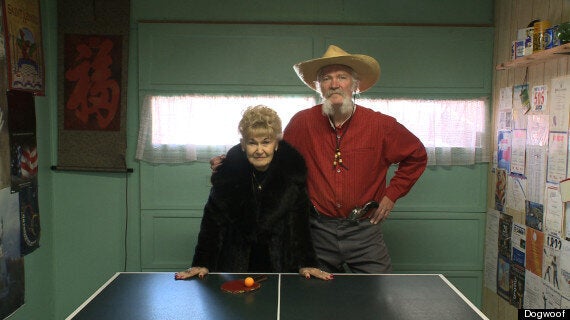 Lisa, gunning for glory at 85, has Dorothy in her sights
As Les told me in Sheffield, where the film premiered to a standing ovation at the recent Documentary Festival, "when you've not got so long to go, it makes it much more important how you choose to spend your time."
This is a film for everyone, of any age.
Ping Pong is in cinemas on Friday 6 July, with the premiere tonight at London's ICA. Watch the trailer below...
Related