Manchester United have not signed a midfielder since Anderson in 2007, but could that change with the possible arrival of Portugal international João Moutinho?
Although the source is the hit-and-miss Sun, there is more than a semblance of truth. HuffPost UK Sport understands United are believed to have contacted Moutinho's agent (Pinhas "Pini" Zahavi) to establish whether he would be interested in leaving FC Porto for Manchester, which he would be.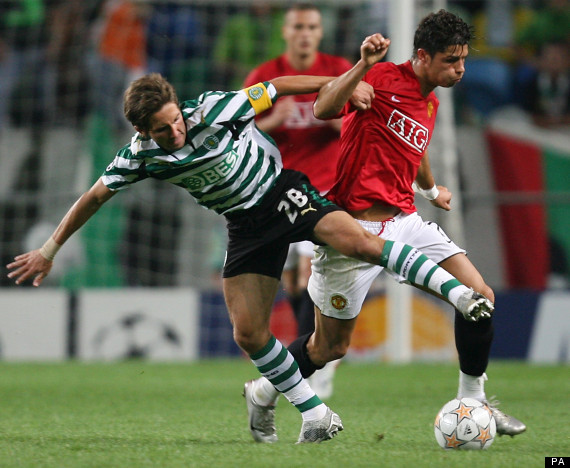 Moutinho faced United twice in the 2007/08 Champions League
Tottenham Hotspur are also in the running for the former Sporting Lisbon man, who is the subject of third-party ownership after Porto sold 37.5 per cent of the player's economic rights Mamers BV.
United's midfield paucity has been an issue since the final year of Roy Keane's Old Trafford career between 2004 and '05, yet Sir Alex Ferguson has inexplicably overlooked the void in several consecutive transfer windows. He has roughly spent £140m since Anderson was signed, coincidentally, also from Porto.
Gazzetta dello Sport yesterday reported Juventus had unsurprisingly been knocked back by Arsenal after making an £8m bid for Robin van Persie, so the Mail today throw up Luis Suárez as a possible alternative.
The Liverpool striker has been linked to the Bianconeri before, as well as Paris Saint-Germain, who yesterday signed Argentinian maverick Ezequiel Lavezzi from Napoli.
Reverting back to Van Persie, and the Mirror claim he will hold talks with the Gunners this week after they rejected Juve's offer. All part of the plan for the Scudetto winners. A wanted man
The Liverpool Echo stress the Merseyside Reds have no interest in Lyon and France goalkeeper Hugo Lloris despite him being linked with a £15m move to Anfield. Arsenal and AC Milan are apparently interested too.
Harry Redknapp's legacy continues. Since he helpfully revealed Demba Ba had a £7m release clause in his contract, the half-season-wonder has been in gossip columns so often he was even trending on Twitter the other week when a bizarre move to Galatasaray was mooted.
Now though, he is supposedly wanted by Liverpool, say the Mirror, as Brendan Rodgers scours the market for his first signing in charge at L4.
Steven Naismith looks set to finally flee the sparse Rangers nest for the Premier League, as a move to the blue half of Merseyside beckons. The Sun state the 25-year-old Scot snubbed West Ham United and Blackburn Rovers in favour of Everton.
The Hammers will however make a loan move for Chelsea outcast Romelu Lukaku, report The Times.
And today could be the day that André Villas-Boas is finally revealed as Redknapp's successor at Tottenham Hotspur, via the Mirror again.