Tom Cruise is having quite a week, and in the middle of all this, the world's most enduring film star reaches his landmark 50th birthday today.
With the world's press lenses trained on his estranged wife's newly-bare ring finger in New York, the eternal action man is not exactly clinking the champagne glasses in celebration.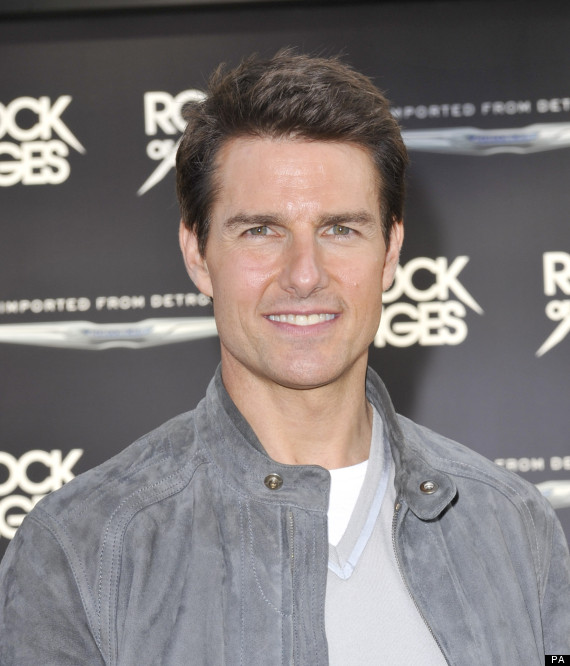 Instead, he's sensibly bunkered down in Iceland, filming his latest sci-fi adventure, Oblivion, where the papper-snappers can't get too close, and he can escape in a helicopter to his hilltop sanctuary.
The message going out is... he may be bruised - "deeply saddened" in fact - but it's business as usual, even in the wake of a looming divorce and custody battle, and even more questions than normal being raised of his Scientological affairs.
On a day to take stock of the highs and lows of his life so far, however, Cruise can take comfort from some confounding achievements. For a boy from a broken home who kept changing schools and battled dyslexia, he has done pretty well so far...
He has made more than 30 films, with an average gross box-office per film just short of $97.3million.
His entire cumulated box office tallies come to a staggering gross figure of more than $3billion. No wonder they gave him a studio - he and his business partner Paula Wagner run United Artists.
His most successful film ever is Top Gun (once you adjust for inflation). This is followed by Rain Man. His least successful major film is Lions for Lambs, with Rock of Ages an embarrassing fourth from the bottom of the table.
Here are 10 more quirky facts about TC - here's hoping he can enjoy his big birthday, somehow!
SEE ALSO: TomKat: A History Of Awkward PDAs (PICTURES)
The Ray-Ban Aviator sunglasses that Cruise's cocky pilot Maverick wore in Top Gun enjoyed a 40 per cent surge in sales after the film's release. The US Air Force and Navy also enjoyed a huge boost in recruitment.
Cruise has been married three times - to Mimi Rogers, Nicole Kidman and Katie Holmes. The unions all ended while his wives were 33, a fact that numerologists/Scientology watchers are having a ball with, especially as Scientology is apparently based on the "33rd parallel" - whatever that is.
A keen Scientologist, Cruise became involved in the religion in 1990 and is now considered their most high-profile member. He credits Scientology with helping him overcome his dyslexia.
Cruise and his production partner Paula Wagner took over Charlie Chaplin's United Artists film studio in 2005, the same year mogul Sumner Redstone reportedly called Cruise "creepy" and he began his high-profile courtship of Katie Holmes.
He's the first actor to have grossed $100 million (£62.5 million) with five different movies at the US box office - A Few Good Men, The Firm, Interview with the Vampire: The Vampire Chronicles, Mission: Impossible, and Jerry Maguire.
The news that Cruise was playing the devilish Lestat in Interview with the Vampire sparked a casting controversy as even the book's author Anne Rice publicly denounced the choice. However, she and many fans were quick to apologise after seeing his performance.
Cruise doesn't save his stunts for the cameras. The off-screen daredevil has his own pilot's licence and performs most of his breathtaking stunts, including the nerve-shredding climb up the world's tallest tower in the latest Mission: Impossible movie.
Tom was Oscar-nominated for his role as a wheelchair-bound Vietnam war veteran in Born on the Fourth of July, and he stayed in his wheelchair off set as much as possible during filming.
Cruise turned down the leading roles in Footloose, Ghost, Iron Man and Speed.
Before Angelina Jolie played a superspy in 2010's Salt, Cruise was originally attached to the part. However, when he dropped out the film's bosses flipped the gender and cast Jolie.
Here's Tom Cruise in some of his most successful action-man roles...