Jon Hamm may appear the epitome of timeless cool, particularly when he's flicking the blind, leaning back in his chair and taking a hard-earned sip of his favourite Old Fashioned cocktail (all this as Mad Men's legend-in-his-lunchtime Don Draper), but it has not always been the case.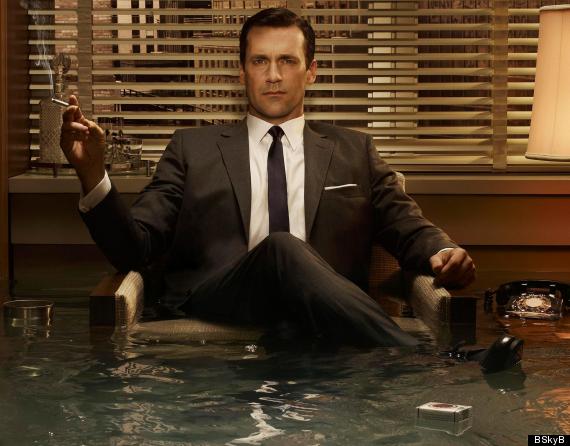 The enduring iconic Don Draper - but Jon Hamm didn't always feel this confident
His partner Jennifer Westfeldt has revealed Hamm was just on the brink of giving up his acting dream when Mad Men came along.
"He had a really long, hard slog in the dark, lean times," she tells HuffPostUK on a trip to London.
"He would just say, I'm going to hang it up, it's not going to work out.'
"I would say, 'It's going to work out, it's going to be that one thing…' It's hard, you have lows as an actor.
"Mad Men came right at the end of a long low for Jon, so it was pretty amazing to see the world catch up with what I always thought about him. It's long overdue."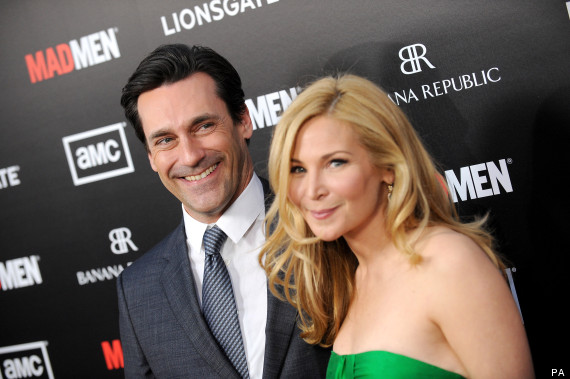 Jon Hamm with his longtime partner Jennifer Westfeldt, who persuaded him to keep going
Westfeldt is palpably beaming with pride about the recognition of her partner of 14 years, even if it means disruption from fans on a daily basis.
"I think we're doing fine with the attention. It's always funny to lose some privacy, that's the downside, but there's so much upside, and my pride that he's found what he deserved."
MORE: Jon Hamm Tells HuffPostUK About Dealing With All The Mad Men Madness, And Having His Girlfriend For A Boss
Westfeldt hasn't been slacking herself in the creativity department. This week sees her film, Friends With Kids, in cinemas, dealing with exactly what it sounds like - how the dynamics between friends change when children start appearing on the scene.
Westfeldt, who wrote, directed and stars in the film, has assembled a quality cast around her - as well as Hamm, who gets a producer credit too, Chris O'Dowd, Maya Rudolph, Kristen Wiig, Megan Fox and Ed Burns are all on board, and Westfeldt is hoping that every cinema-goer will find someone to relate to in this ensemble:
"Chris and Maya play the hero couple, that one that sticks together through thick and thin. deal with everything.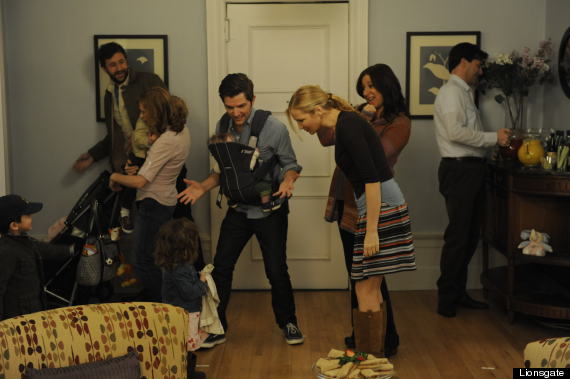 Friends With Kids enjoys a star-quality ensemble cast
"Jon and Kristen play a couple for whom kids and parenting magnify the cracks that are already there in a relationship, and don't weather it, and then Adam (Scott) and myself.... we embark on this unconventional journey. I hope that everyone can identify with at least one of the characters and ponder the questions afterwards in the pub."
Of course, Westfeldt is well aware that, as half of one of Hollywood's glamorous, smart, famously unmarried and childless couples, she is in the cross-hairs, along with celebrated singletons such as Jennifer Aniston and Cameron Diaz, of the ongoing debate about a woman's right/responsibility to juggle child-rearing with a career/have it all.
But the multi-skilled Westfeldt, thrilled with the reception of this, her third film, seems content to tread lightly on this debate and just plough her own furrow:
"Everything about my life has been pretty unconventional," she attests.
"Jon and I have been together for 14 years and not married, life has worked out this way. I'm an Aquarius, that's a very contrary sign, we're renegades and rebels, and do it differently.
"I didn't know how unconventional I was until people started telling me."
Friends With Kids is in cinemas now. Watch the trailer below...