Tulisa Contostavlos has defended pulling a controversial hand sign after coming over all gangster's paradise during her new video shoot.
The star decided to head back to her street roots by filming her upcoming second single on the tough Church End estate in London. But The X Factor judge looked as if she felt a little too at home in between takes, and flipped a 'C' sign with her fingers - the sign of local gang the Crime Scene Boys, who have a terrible reputation for being quite naughty.
The daft pose sparked outrage with critics, who claimed the singer was glamourising gang culture - but the star insists she had no idea what the sign meant, and was using it in reference to her own hometown of Camden in the capital.
In a statement to The Sun, she said: "I filmed a street video on Sunday night for a track on my album.
"The video was a collaboration with the rapper Nines. When we were filming on the street loads of other people turned up and joined in the shoot.
"When I was holding my hands in the C sign, this was as a tribute to Camden, my home town and where N-Dubz began.
"I am not aware that this sign has anything to with any street gang and I 100% do not endorse any gang violence in any form."
It's been a tough week for the singer, who has fallen out with her cousin Dappy again after he slammed her boss Simon Cowell in his new track.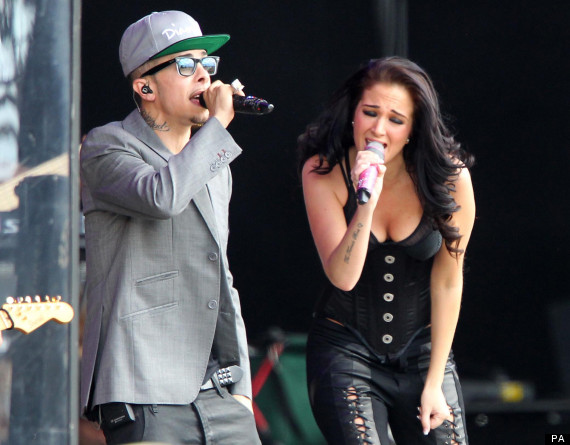 Tulisa on stage with Dappy
Taking to Twitter to berate her former N-Dubz bandmate, she wrote: "Just puttin (sic) it out there..dont (sic) involve me in dappy's latest hype, I don't condone it in anyway... I told u hes (sic) a nut,I dealt wid (with) this 4 (for) 13 years.I just hope people realize hes (sic) simply lost his mind since B (his father Byron Contostavlos)' death..that's all,4 his sake".