A double hit of typical British storms will arrive today as Andy Murray strides onto Centre Court for his Wimbledon semi-final against Jo Wilfried-Tsonga while a month's worth of rainfall over the next 24 hours.
The fourth-seed Scot plays in his fourth consecutive SW19 semi-final, having previously been beaten by Andy Roddick and Rafael Nadal (twice). Murray walks through the grounds after practice on Thursday
Yet Nadal's surprise elimination at the hands of the Czech Republic's Lukas Rosol last week has paved the way for an encounter with Frenchman Tsonga. Murray defeated him in the quarter-finals at Wimbledon in 2010 and boasts an auspicious record against the fifth seed - five wins from six matches.
Murray, 25, told the Press Association he has belatedly subscribed to the aura the Wimbledon Championships generates in the UK.
"I didn't necessarily appreciate that the first time I played because you're just a kid," he said.
"It's something new for you. You're excited to play on Centre Court. It wasn't until I played a lot of matches there that I started to understand how special a court it was."
MURRAY TAKES MATCH POINT AGAINST TSONGA IN 2010
Murray and Tsonga will be sheltered by the Centre Court roof after Novak Djokovic faces Roger Federer in the first semi-final at 1300pm, but Britons in Yorkshire, the North East, the Midlands and East Anglia must brace themselves for flooding as two heavy bands of rain hit the UK on Friday and into Saturday.
The Environment Agency has urged 94 communities to be vigilant ahead of the gathering storm.
The Met Office has also issued an amber weather warning - the second highest - which advises the public to "be prepared".
Its is estimated between 20mm and 40mm of rain will fall in central and northern areas of England, and the worst-hit areas could see 60mm of rain, the average monthly fall for July.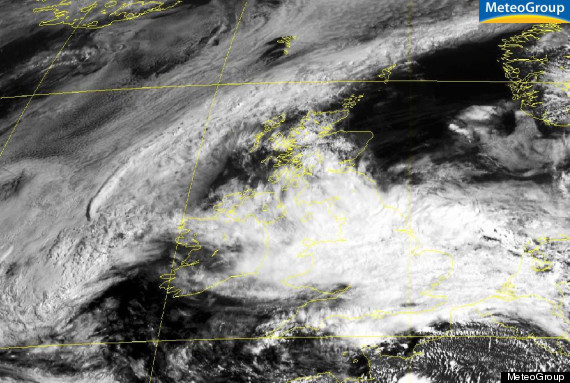 Satellite imagery shows the UK covered in a blanket of cloud