Chris Moyles has announced live on air that he is to quit the Radio 1 Breakfast Show.
LISTEN BELOW to Moyles' annoucement to his listeners - complete with "cue the sad music".
The controversial DJ is set to vacate his 6.30am-10am slot at the end of September, after nearly nine years as host.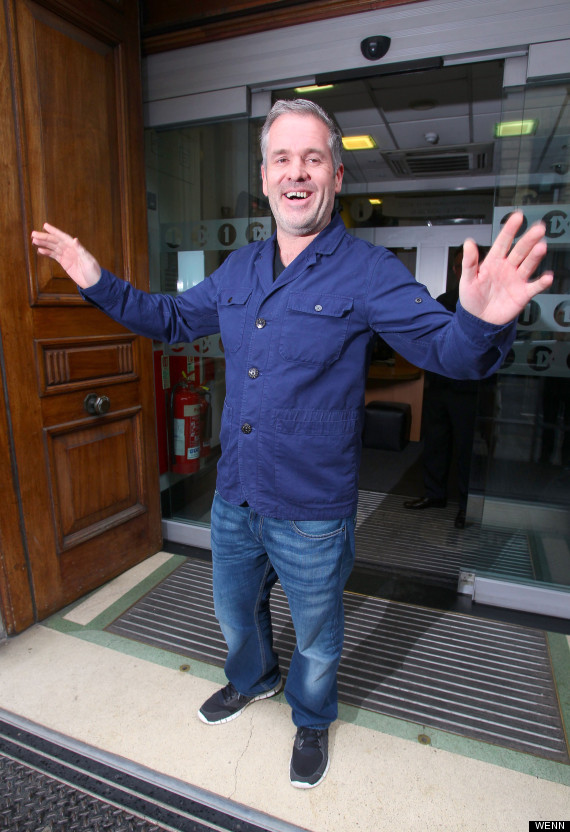 Chris Moyles departs Broadcasting House after his announcement this morning
He told listeners:
"I wanted to tell you myself. I didn't want you to see it in the newspapers or on Twitter.
"For the last eight and a half years, I've had the best time of my life, and I've got to share it with a small group of friends, and eight million strangers every morning.
"A couple more months of us. Then it's someone else's turn. Thank you for listening."
However, Moyles is contracted with the station until the New Year 2014, after he signed a new two-and-a-half year contract last July.
He currently holds the record for the longest-serving breakfast show host, overtaking Tony Blackburn's previous record of five years, eight months.
The station has seen many schedule changes recently, with Scott Mills moving from his drivetime slot, and replaced with the younger Greg James. Chris Moyles has been at the helm of the Breakfast Show for an unprecedented eight and a half years
New presenters Jameela Jamil and Gemma Cairney also joined the station's line-up in their bid to appeal to younger audiences.
It comes after the BBC Trust found that Radio 1 needed to attract more people under 30 years old to meet its public service remit.
Despite the move, Moyles' listening figures have remained steady. The Chris Moyles Show is currently listened to by an average of 7.10 million listeners, compared to 7.52 million listeners this time last year.
Moyles has been at the centre of numerous controversies since taking over the slot from Sara Cox in January 2004. Most famously, he launched an on-air tirade in September 2010, claiming he had not been paid for two months.
His successor was announced at 10:30am this morning - click here to read the full story.
LISTEN TO CHRIS MOYLES TAKE HIS DEPARTURE FROM HIS LISTENERS...