Are you getting enough theatre? What if getting your stage fix was as easy as opening your browser?
Recent years have seen the Arts and the Internet uniting in creative matrimony: Antony Gormley invited the world to view his living art via a webcam in 2009 and Eric Whitacre conducted a vast virtual online choir in 2010.
Now the bright lights of the stage can be found on our computer screens, thanks to Arts company Digital Theatre. Filming some of the most acclaimed British plays and musicals, Digital Theatre aim to create a unique experience with multiple camera angles and creative editing. The team have been recording productions since 2009, with 14 titles under their belt, available to purchase for online streaming or download.
HuffPost UK met Digital Theatre founders Robert Delamere and Tom Shaw to find out how they get the creative juices of the theatre industry to flow down our broadband cables.
As the bard famously put it: 'all the world's a stage' – which for Digital Theatre is quite literally the case. "The global appetite for British theatre is really extraordinary," says Robert at their London offices.
"When you look at the huge amount of traffic we get from North America and other countries … you can find that someone in Malawi is watching A Comedy of Errors - the reach of is the most fascinating thing."
With visits from over 150 countries, the website is an international shop window for British culture. Tom adds: "There are some great productions in the industry now, an opportunity to film them is fantastic … [because we can be] representative of British theatre, but also film the great stuff that people want to see."
Both co-founders have worked extensively in the arts with screen, stage and radio productions, so creative collaboration is close to their heart: "When we release a production it is sealed with approval of the show's director," Tom explains, "that collaboration takes time… we set a benchmark of quality."
Digital Theatre's aspirations of excellence and close working relationships have led to partnerships with big names in British theatre: the Royal Shakespeare Company, Young Vic, Royal Court Theatre, where they have filmed actors such as David Suchet, Zoe Wanamaker, Catherine Tate and David Tennant.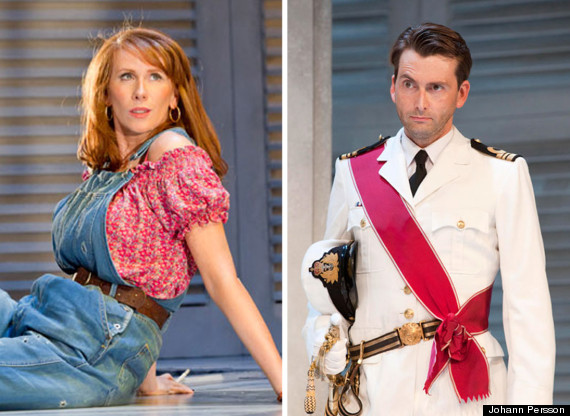 Catherine Tate (Beatrice) and David Tennant (Benedick) in Much Ado About Nothing
However, the company's long list of past theatrical collaborations could be criticised for being too London-centric. "I think that's just representative of where the most theatre is created,"< Robert says "We've been to Ireland, Liverpool, Sheffield, Leeds, we've talked to the Royal Exchange Manchester." Tom adds: "We're certainly looking at the road map for filming outside of London."
On the topic of geography, could Digital Theatre be a godsend for schools and colleges in remote areas of the UK, especially in a time of austerity? Robert and Tom are already on the case with sister site Digital Theatre Plus, an online learning resource with documentaries and interviews.
"Access to theatre should be a democratic right for children in schools, but it's challenging times at the moment," explains Robert, "Digital Theatre Plus is there to compliment the traditional school trip to the West End."
'Challenging times' certainly describes a double-dip recession and extensive cuts to UK Arts funding. In an economic downturn, are people willing to pay for home theatre?
Tom feels austerity is having an unexpected effect on the Arts: "I always think it's amazing how in any recession theatre-going completely bucks the trend – it has been the most lively, exciting and profitable time over the last three or four years… people will always want to see good theatre."
Many productions are increasingly using mixed media on stage, including Digital Theatre's latest title: Abi Morgan's Lovesong, the intense story of a childless elderly couple, haunted by memories of their former younger selves.
As the characters of Lovesong weave between each other on stage - ghosts from the past and present - the Digital Theatre treatment lends itself well to the performance; camera angles highlighting the background film projections and contemporary dance routines. Where is the best position to view the choreographed movements of an actor lying on a kitchen table? With the gods of course; directly above the stage.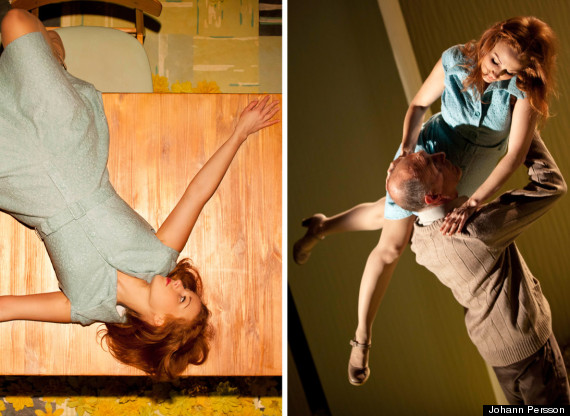 Leanne Rowe (Magaret) and Sam Cox (Billy) in Frantic Assembly's Lovesong
What about the laughter, the gasps of shock and the muffled sobs from an enthralled live audience? "Rather than us taking that out, we want the audience to be part of our edit," explains Tom, "to be part of the general atmosphere, that sense of performance in a live space."
But the absence of a live experience has led to reservations for some in the industry, Tom reveals: "We still hit that prejudice about what people think film theatre is … the challenge for us is to overcome that." Robert adds: "It is only when people watch what we do and see it is such a considered labour of love that people turn around and say that they hated it before, but can now see it completely works. Our work can be very effective as a media in its own right."
A media in its own right? Could Digital Theatre be the beginnings of an entirely new form of theatre?
For many in the creative industries, going digital is the thrilling - and inevitable - path ahead.
Click below for pictures from Digital Theatre's past productions. A full list is available here.
Digital Theatre Productions