The Red Cross has declared the situation in Syria a civil war.
"We are now talking about a non-international armed conflict in the country," ICRC spokesman Hicham Hassan said following an assessment carried out by the Geneva-based group.
"International humanitarian law applies to all areas where hostilities are taking place."
This new status means that parties in conflict have the right to use an appropriate amount of force "to achieve their aims", reported the Associated Press.
However, attacking or killing civilians and detainees could still constitute war crimes.
The announcement comes after Syria refused to accept the UN's claims that it used heavy weaponry to attack Tremsah on Thursday, killing 200 people.
Speaking in Damascus, Syria's foreign ministry spokesman Jihad Makdissi claimed that just 39 people died in violent clashes as the army sought out "armed terrorists."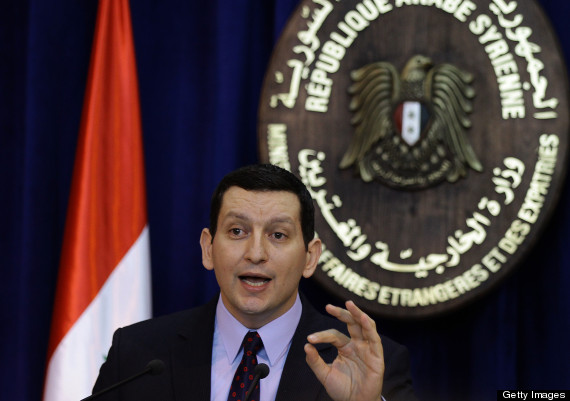 Jihad Makdissi at Damascus press conference
"It was not a massacre but a response by regular military forces against heavily armed groups that do not want a political solution," Makdissi said.
He said foreign minister Walid al-Moualem had received a letter from UN envoy Kofi Annan following the bloodshed in Tremseh.
However, he described the communication as "rushed" and accused the account of "not relying on facts."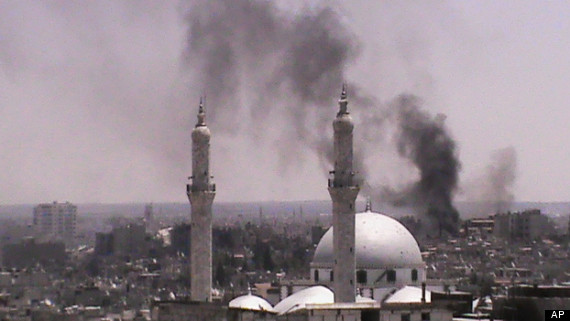 A citizen journalism image taken on July 11 shows black smoke rises from buildings near a mosque from purported forces shelling in Homs, Syria
UN and Arab League envoy for Syria Kofi Annan said he was "appalled" by the news of "intense fighting, significant casualties, and the confirmed use of heavy weaponry such as artillery, tanks and helicopters."
Hillary Clinton said activists' accounts that 200 people, most of them civilians, have been killed in shelling and other attacks by regime forces in Syria, were "evidence that the regime deliberately murdered civilians."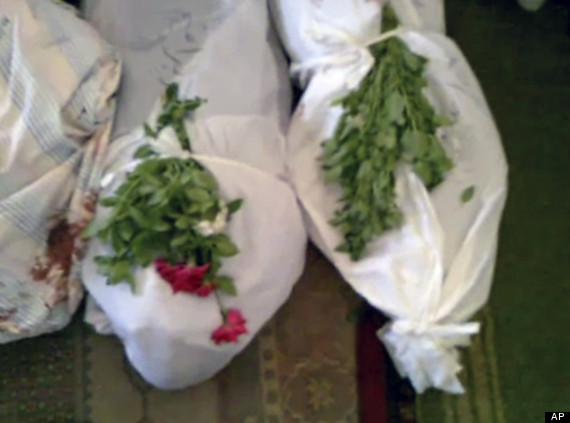 An image from an amateur video from Hama Revolution 2011 purports to show bodies of victims killed by violence that, according to anti-regime activists, was carried out by government forces in Tremseh, Syria
On Sunday UN observers return to Tremseh, hoping to shed light on the true nature of events, as at present reports from the country are unclear.
According to BBC Correspondant Jim Muir in Lebanon, preliminary evidence gathered by UN monitors suggests that rebel fighters were targeted in the latest attack, rather than the widespread massacre of civilians as happened in Houla earlier this year.
However they are hoping to establish the identity and number of those killed after further interviews with witnesses in the farming district on Sunday.
UK Foreign Secretary William Hague has called for a united response from the international community, although Syria still counts Russia as a close ally. On Sunday the Kremlin announced that Vladimir Putin will meet with Annan on Tuesday.