Fresh video has emerged on YouTube purporting to show the lifeless corpse of Muammar Gaddafi being pulled around by rebel fighters on the day of his death.
In one gruesome scene, the deposed dictator's head is shown being "operated" like a ventriloquist's dummy, "nodding" and "talking" to his captors, many of whom are standing over the tyrant's battered body taking pictures with their mobile phones.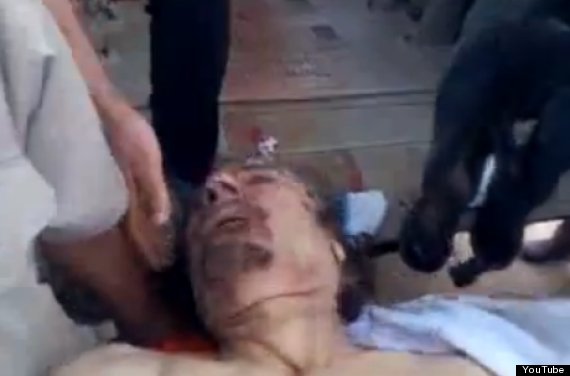 Gaddafi's body on a stretcher on the same day as his death
The footage, which has not been verified, was first circulated on Twitter after a Syrian activist tweeted a link to the video as a stark warning to President Bashar al-Assad.
Gaddafi, who ruled Libya for more than 40 years, was killed in October last year. After being discovered hiding in a tunnel in Sirte, his birthplace, the despot was dragged through the streets and ultimately murdered.
The video is reported to have been taken later that day, with Gaddafi stripped to the waist, his bruised face and body betraying the violence of his final moments.
After mocking the former leader, the assembled throng drag the body by the feet from the back of a van and place it on a stretcher.
WARNING: Very graphic content. This video is unverified.