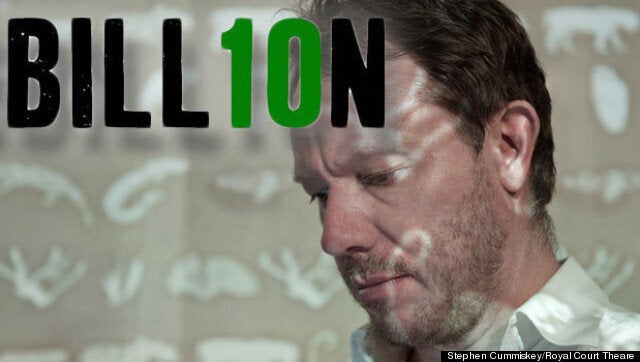 "I'm a scientist, not an actor," – an unlikely opening line from Stephen Emmott, star of one-man show Ten Billion at the Royal Court Theatre.
Emmott's confession is far from theatrical irony; he is a Professor at Oxford University stepping onto the stage to bring us a message about the vital issues of a burgeoning population.
With apt topical timing, Emmott and director Katie Mitchell deliver an alternative scientific lecture about the key issues of the relationship between population and the environment, combining music and creative projection.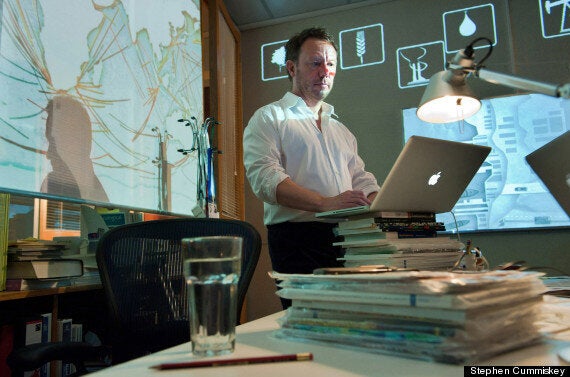 Stephen Emmott in Ten Billion
"I'm concerned about the state of our planet," Emmott explains with deadpan understatement. What follows is a whirlwind of facts and figures, with the message that we too ought to be concerned – deeply concerned.
Species on earth are becoming extinct 1,000 times faster than the normal evolutionary rate as we consume our way through the planet's resources.
Our air mileage figures are the most shameful: by 1960 we had flown 100 billion miles, by 1980 we had totted up 1,000 billion miles – we now jet set to the tune of 6,000 billion air miles per year.
The resultant climate change from our consumption will leave us high and dry, quite literally; water shortage is our biggest problem on the horizon.
Modern-day production processes are consuming water at an unsustainable rate: it takes 3,000 litres of water to create just one Big Mac burger and, astoundingly, it takes four litres to make one litre of bottled water.
Some of the jaw-dropping facts in Ten Billion feel unsubstantiated: apparently the energy consumption of one online Google search is the same as boiling a kettle. Is this the combination of electricity usage and data storage on servers? We are left to guess.
Director Mitchell brings this startling lecture to our attention with the lightest of touches in set design and lighting. Emmott's reproduced office appears to have been lifted directly out of Oxford University: piles of books, messy papers, there's even a realistic corridor behind the glass windows.
Projected animations appear on the whiteboard, spilling out of the frame onto the wall as Emmott speaks to the audience.
The idea of creative projection is promising, yet does not feel fully realised in Ten Billion. The juxtaposition between a dull office and vibrant animations could have been dazzling; interaction between the light and the props on stage, or even with Emmott himself? An example is in the work of Performance Artist Miwa Matreyek, who employs these techniques to breathtaking effect.
Understandably, the understatement on stage might be to avoid distraction from the powerful all-important message: forget ten billion, the world's population could be 28 billion by the end of the century, according to Emmott's predictions.
Despite his assertion that "I think we're fucked," Emmott offers some intriguing solutions: artificial photosynthesis, nuclear power, desalination, "massive umbrellas in space".
Ten Billion is a bold new approach in bringing scientific lectures to a theatre audience, a form that deserves the time to evolve with further productions.
Click below for pictures from Ten Billion.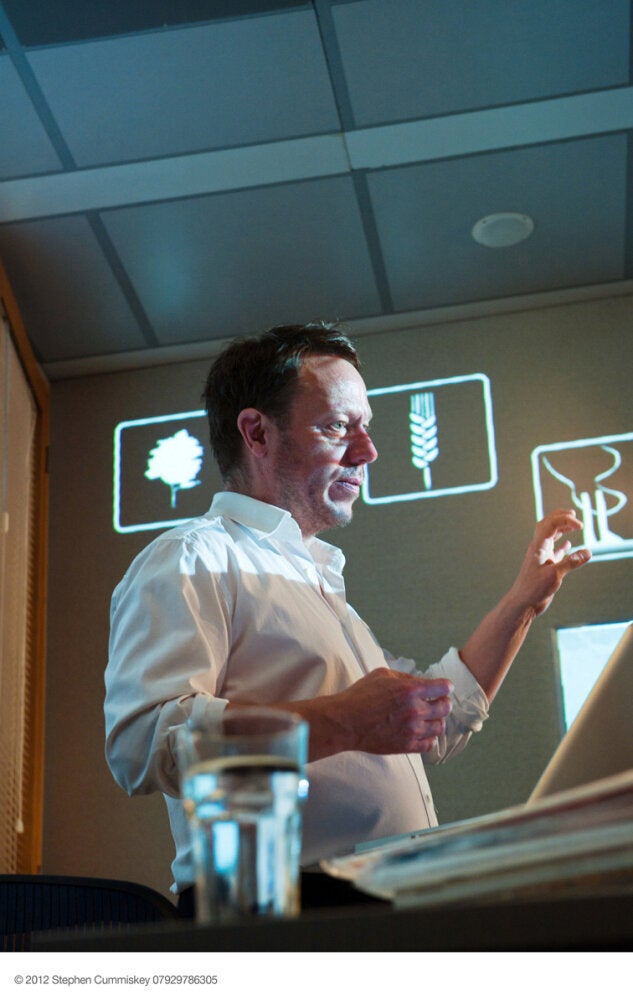 Ten Billion, Royal Court Theatre
Take a look at all of HuffPost UK's theatre reviews: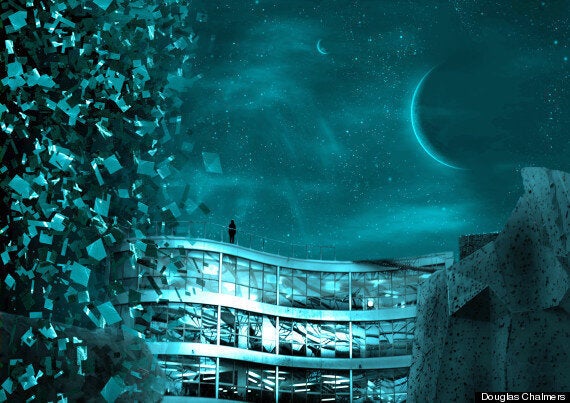 HuffPost UK Theatre Reviews