Members of the armed services drafted in to provide Olympic security in the wake of the G4S staffing fiasco are being forced to sleep rough on chairs, according to a military photographer.
A picture, tweeted by @CombatCameraman, purports to show Royal Navy servicemen sleeping on makeshift beds at Tobacco Dock, London.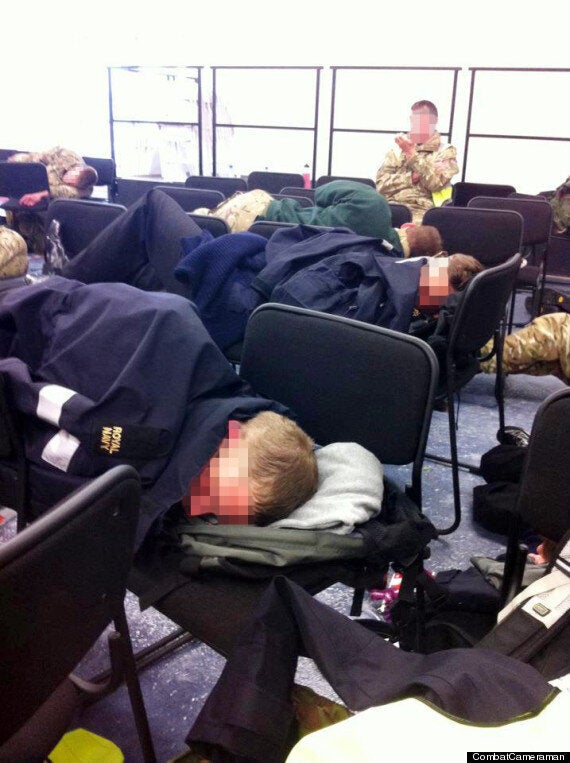 @CombatCameraman: 'After an 18 hr shift, this is where the lads are sleeping'
The 16,000 square metre former shopping centre in Wapping is being used by troops from the Army, Royal Navy and Royal Air Force as accommodation during the Games.
Last week Defence Secretary Philip Hammond said: "Since last week's uplift in the military contribution we have been working hard to ensure that our Armed Forces are accommodated appropriately and as comfortably as possible with access to sufficient rest and recreational facilities.
"I am confident that the Tobacco Dock will allow us to do that and our priority over the coming days is to ensure that happens as quickly as possible."
However, the picture taken by @CombatCameraman (name withheld), shows a different story, with troops forced to sleep on plastic chairs.
According to the source, the picture was taken in the southwest building of the dock, part of the spillover 'accommodation' from the main hanger.
Speaking to the Huffington Post UK, @CombatCameraman said the accommodation is "damp, airy and cold".
The troops in the picture are mixed Army and Navy, with several in the picture serving as part of the crew of HMS Northumberland.
According to @CombatCameraman, the man in the middle of the picture (obscured for security reasons) is scheduled to serve for the entire Olympics before he goes on leave before he deploys.
The Ministry of Defence has denied that the picture is taken at Tabacco Dock.
A MoD spokesperson told the Huffington Post UK, "The picture is definitely not taken at Tobacco Dock. We are still trying to determine where and when it was taken, but it can't be Tobacco Dock as there are no navy personnel there."