An Olympic torch-bearer who had a tattoo to commemorate her experience fell foul of a poor-speller who inscribed her arm with the word "Oylmpic."
Jerri Peterson carried the flaming torch through Derby in June after she was nominated for the honour by the hotel chain where she worked.
Peterson, 54, had the $10 (£6.40) tattoo done back in her native Atlanta.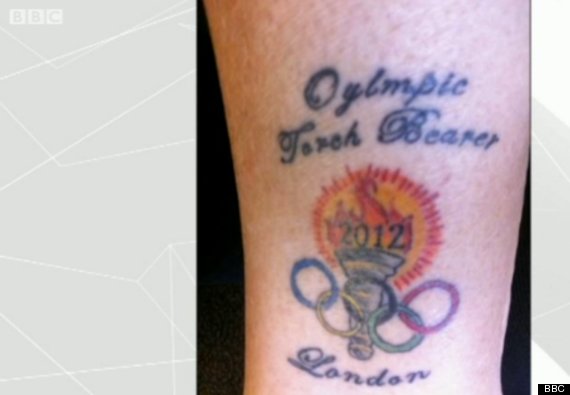 Jerri Peterson commemorated her torch-bearing honour with the above emblem
She told the BBC: "I always wanted to have a tattoo but I never felt quite passionate enough about any one thing to have it put on my body permanently.
"So when I was selected for this wonderful honour, I thought 'that's it – I'm ready to have my tattoo'."
SEE ALSO:
But Peterson, who didn't notice the error herself until it was flagged up by her husband, bears no hard feelings towards the tattoo artist – and has declined his offer to correct it.
She added: "It's the Oy-limpics – it's as unique as I am."
If you thought that was bad, check out these heinous efforts...