A 17-year-old boy has been arrested after attempting to grab the Olympic Torch.
The teenager treed to snatch the Olympic flame from a woman torchbearer in Rochester Road, Gravesend, at about 9.55am today but was pushed away by officers within a matter of seconds, Kent Police said.
The youth, from Gravesend, is currently in police custody.
Anna Skora proudly shows off the torch during the parade in Gravesend
A man rushed towards her, almost grabbing the torch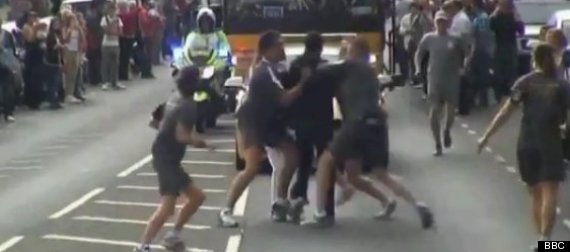 Security guards who run with the torch jumped in to prevent the man getting hold of the flame
The BBC 2012 Twitter feed said the torch was being carried by Anna Skora, 23, from Lublin in Poland, at the time.
No-one was injured in the incident and the torch continued on its way without disruption, police said.
A Metropolitan Police spokeswoman said the force had a 70-strong team, working in shifts, protecting the Olympic flame as it travelled across the UK and Channel Islands.
Last week, a 27-year-old man from Oxfordshire was charged with outraging public decency after streaking during the Olympic Torch Relay.
Daniel Leer, from Lawson Road, Henley-on-Thames, was arrested following the incident which happened as the flame was carried through Henley.
A naked man with Free Tibet written on his back was seen to run a short distance close to the torch which was about to be taken on the River Thames by Sir Steve Redgrave.
The incident was witnessed by crowds and video clips have appeared on the internet.
Leer was released on bail to appear at Oxford Magistrates' Court on July 25.