Jackpot is the latest offering from the Nordic Noir stable that has brought us the Stieg Larsson dramas on the big screen, as well as all the Saturday evening BBC4 offerings from Wallander to Borgen.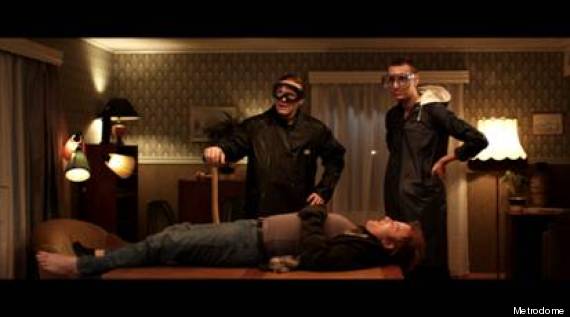 Jackpot is another one from the stable of Nordic Noir that has caught British viewers' imagination
Confident that British audiences are now very happy to read subtitles, and cope with characters with lots of lines through the letter 'ø', Metrodome are bringing us Jackpot, based on a story by Jo Nesbø, one of the region's most prolific talents, with nine million book sales to his name.
Click here for more trailers of forthcoming films
Below is the official blurb for Jackpot - sounds like Dragon Tattoo meets Lock, Stock and Two Smoking Barrels, with a touch of Shallow Grave thrown in. Above is an exclusive clip where our hero (sort of) Oscar is interrogated by a baffled policeman who has to ask him, is he a suspect or a witness?
All the usual wit and black humour we've come to associate with storylines from this part of the world, as well as a twist that you might not see coming.
Clip above, blurb below, as well as the film's official trailer...
Oscar Svendsen wakes up, terrified and bloodied; a shotgun in his hands, in what was once a respectable strip joint near Svinesund, Sweden. He is surrounded by eight bodies, and police detective Solør has a gun aimed at his chest. Solør is convinced of his guilt, but Oscar persistently denies any wrongdoing.

Reluctantly Oscar starts relating the incredible story of four men who won top prize in a soccer pool and suddenly found themselves 1,739,361 kroner richer. But it turned out to be difficult to divide the money by four.

Jackpot is an exciting, playful and bloody comedy from the producer of Cold Prey. It is based on a story by Norway's leading crime writer, Jo Nesbø. We meet a group of scruffy young men, all of them with a criminal background. Oscar (Kyrre Hellum), Thor (Mads Ousdal), Billy (Arthur Berning) and Tresko (Andreas Cappelen). They work at a factory in the middle of nowhere that makes plastic Christmas trees. And they bet on soccer…
Jackpot is in cinemas on 10 August. Watch the trailer below...