Of all the games we'll be watching, playing (and attempting to steal...) at Gamescom in August, the new SimCity is at the top of our list.
Perhaps it's our basic, persistent megalomania - and the chance to unleash our hellish vision of civic misery in greater detail than ever before - which has us excited about the new title, due in 2013?
Maybe it's the game's retro appeal, and the promise of the first truly connected, multiplayer experience in the history of the series.
Or its just that we want to build a SimCity with red London buses in it for the first time?
Ahead of Gamescom we caught up with Jason Haber, a producer at Maxis and Electronic Arts, who is working on SimCity, to get the lowdown on the new title.
What are the features which are going to inspire new players most?
There are several great new features in this SimCity that will inspire players in different ways. GlassBox, our powerful new simulation engine, creates an incredibly detailed simulation where players can see exactly what's happening.
They can zoom in and watch as crimes, fires, traffic and more occur on the city streets. Regional play means that actions within one city can affect other cities within the region. We think that this will inspire players to think about the bigger regional picture, not just the cause and effect that happens in a single city, even if they are playing the entire region on their own.
The beautiful constructible world allows players to customise any ploppable in our building editor. With this customisation and the addition of curvy roads, players can unlock their creativity and build practically any city they can imagine. We even had a designer in our studio make a full functional city shaped like a guitar.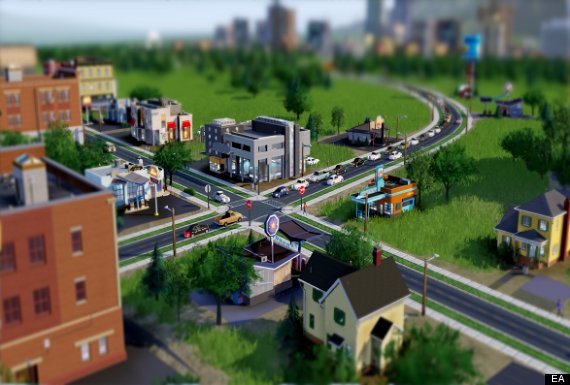 Above: The new SimCity promises to be the most detailed ever made
What's your favourite small moment/detail from the new game?
There are a bunch of new features that I'm very excited about, but I've always been a fan of disasters. In this new SimCity, the disasters are fantastic and I can't wait until we can show them off!
What will British players recognise in the British City Set, available in the deluxe version?
British players will instantly recognise the landmark Big Ben, see Double Decker buses around their city and also notice the British styled RCI buildings that will populate their cities. In fact, we've got several native Brits on our development team that are making sure these buildings and items look great.
How will the social elements change how the game unfolds?
Cities no longer exist in a bubble, but are part of a larger region. This means that the play experience also expands out to the larger region, even allowing players to bootstrap other cities by sending them resources when they are just getting started.
In addition, SimCity creates a connection with friends and the rest of the world, allowing players to experience new ways to engage with the game. We'll be talking more about this at Gamescom.
Does humour still play into the game (I loved the original's mock news clips)?
It wouldn't be a Maxis game without humour! We know that our fans love having funny moments peppered throughout the game and we love creating them too. If we didn't have any humorous moments, we'd "live to regret this" (that's a SimCity 2000 reference, in case you missed it).
How much of the original game remains in the new title - whether just inspiration or more than that?
We have rebuilt SimCity from the ground up, but have included many of the core features found in the games of the SimCity series. It has zoning, laying out roads and managing your city services, and many more features that will be familiar to any SimCity fan. So the original games are more than just an inspiration to us, they are our foundation and our history.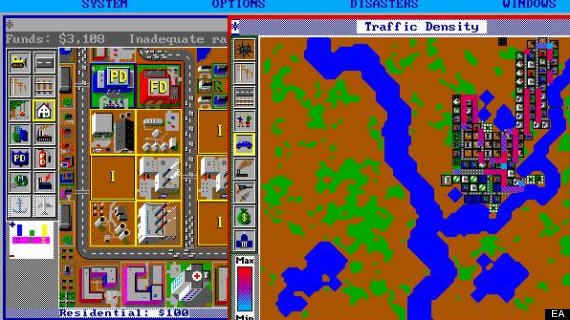 Above: The original SimCity still has a place in many peoples' hearts.
Why do people still feel such an affinity with SimCity?
For many people SimCity brings back memories of when they played the original game and had their first experience with a simulation game.
Often we hear from people that this was the first game they ever played! For others we think it fills a special place in their gaming spectrum, one where they can have the power of a mayor and run a city however they'd like.
This sandbox style of gameplay, being a combination of challenge and creativity, appeals to a lot of players. And of course there are those that love to build up and destroy their towns.
What can we expect at GamesCom?
We'll be showing you some great new features at Gamescom, but we can't get into any specific details right now.