All eight of the female badminton players suspected of trying to throw matches have been disqualified, according to reports.
Indonesia's Olympic team leader Erick Thohir told the Associated Press the doubles players have been disqualified from the Games after the fiasco on Tuesday night.
Four pairs of badminton players aroused suspicion during two matches at Wembley Arena. All had qualified - the matches were to determine the placings at the group stage.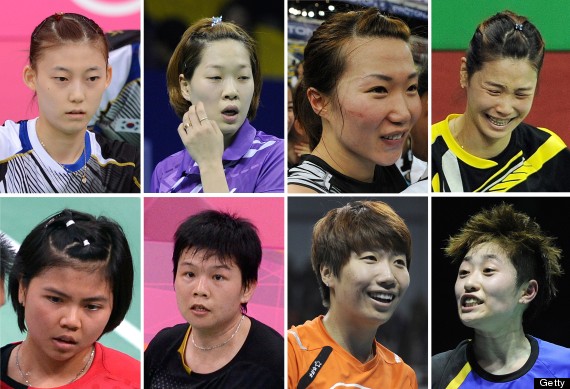 Disqualified: (Top row l-r) South Korea's Kim Ha Na, Ha Jung-Eun, Kim Min-Jung, Jung Kyung-Eun. (Bottom row l-r) Indonesia's Greysia Polii, Meiliana Jauhari and China's Wang Xiaoli and Yu Yang
Two players from China, four from South Korea and another from Indonesia seemed to put in as little effort as possible, missing easy shots and sending others far wide of the tram lines.
The longest rally in the first game between South Korea and China lasted a mere four strokes.
Ha Jung-eun, Kim Min-jung, Jung Kyung-eun and Kim Ha-na from South Korea, Meiliana Jauhari and Greysia Polii from Indonesia, and Yu Yang and Wang Xiaoli from China were all booed by an irate audience.
The Chinese pair showed little interest in beating their South Korean opponents; if they lost the match, they would avoid meeting their compatriots Tian Qing and Zhau Yunlei until the final.
Indonesian team leader Thohir said the team will appeal the decision.
The teams were accused of "not using one's best efforts to win a matc": and "conducting oneself in a manner that is clearly abusive or detrimental to the sport".
The Badminton World Federation, who would be responsible for the disqualifications, has not yet responded to any media enquiries.