"Who killed all the Daleks?" the Doctor is asked. "Who do you think?" replies Matt Smith as the Time Lord.
The epic Doctor Who series seven trailer has arrived, showing the Doctor and his companion Amy Pond (Karen Gillan) take on thousands of Daleks, the Weeping Angels and... dinosaurs.
On Tuesday the BBC also released a promo shot for the series showing the Doctor with a cut on his head, while carrying his redheaded companion to safety.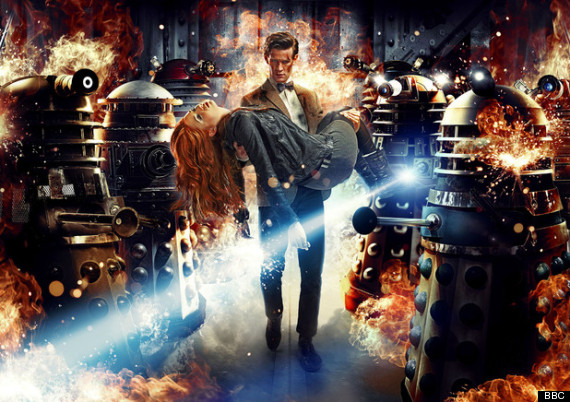 The picture features multiple models of the Dalek, including variations from the 1960s and '70s, plus the Special Weapons Dalek from 1988.
PHOTOS: Karen Gillan meets her double on the set of her latest film.
Smith recently told how Gillan pinched the Doctor's bottom as they filmed her final scenes in the sci-fi show. Amy Pond is being written out in a "heartbreaking" storyline. Both Amy and Rory (Arthur Darvill) will bow out of the show in an adventure which will feature the Weeping Angels.
Smith said: "We had a hug and Karen fondled me. I called her Fondling Bottom Gillan."
Speaking at the Comic-Con convention in San Diego, California, Gillan added: "I was in bits. I didn't want to go. There were tears, a lot of tears. But it is the best exit ever."
Former Emmerdale actress Jenna-Louise Coleman will replace Gillan as the Doctor's new assistant halfway through the new series.