You've just rowed 2,000 metres, solo, in just over seven minutes, an effort that has left you so physically exhausted that your lactic acid-saturated legs are quivering so much you can barely get out of the boat.
This is the situation that TeamGB sculler, Alan Campbell, found himself in today after a heroic performance to grab bronze in the men's single sculls.
Surely everyone agrees he deserved a rest and a second to catch his breath, no?
Not if you are John Inverdale.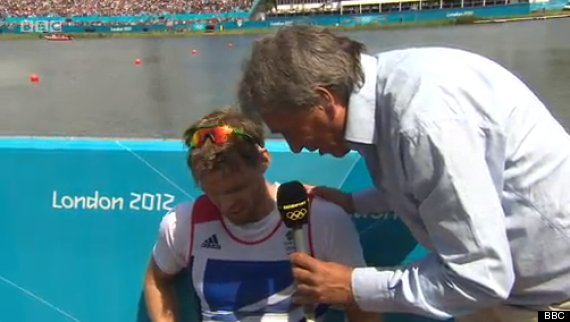 John Inverdale interviews Alan Campbell
No sooner had rowing über-legend Sir Steve Redrave helped the still shaky Campbell from his boat and lay him on the ground on the side of the river, than the intrepid BBC presenter shoved a microphone in front of his sweat-drenched, panting face and preceded to question the rower on how he felt.
Between breaths Campbell eventually managed to speak. Taking around two minutes to say 20 seconds of words he said: "I'm really pleased it is another medal for Britain. I'm just so sore, I'm so tired. It was disappointing to come away from the last Olympics with nothing.
"I'm proud and I'm pleased for the crowd. They really lifted me. Knowing almost 100 per cent of the shouts were for me, I knew it was now or never to secure a medal."
Campbell was eventually rescued by a slightly disapproving looking Sir Redgrave who carried him off to the medal ceremony leaving Inverdale muttering something about staying put to do his job.
Campbell, we salute your sculling prowess.
Inverdale, we salute your audacity in interviewing people who in any other situation would require oxygen, not a microphone.