This weekend saw Usain Bolt sprint into the history books again, running the second fastest 100 metres in history, and defending his Olympic title into the bargain.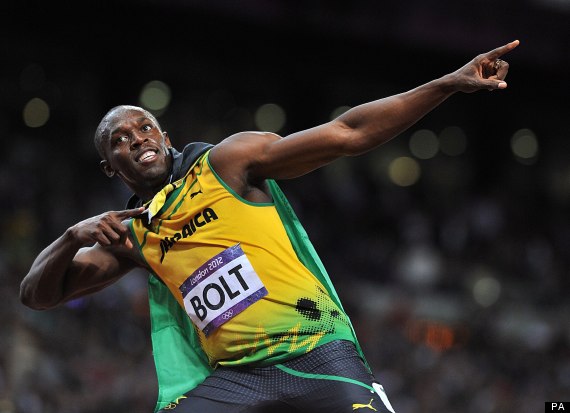 Usain Bolt filled spectators and viewers with awe, with his performance in the London 2012 100-metre final
This came after his jaw-dropping effort at Beijing four years ago, when he strolled into the record books as the world's fastest man, pausing to strut and bang his chest as he crossed the finish line.
If it all seems awesomely effortless, there is in fact a lot of hard work going on behind the scenes, both by Bolt and his team, to ensure the world-beater stays on top of the podium.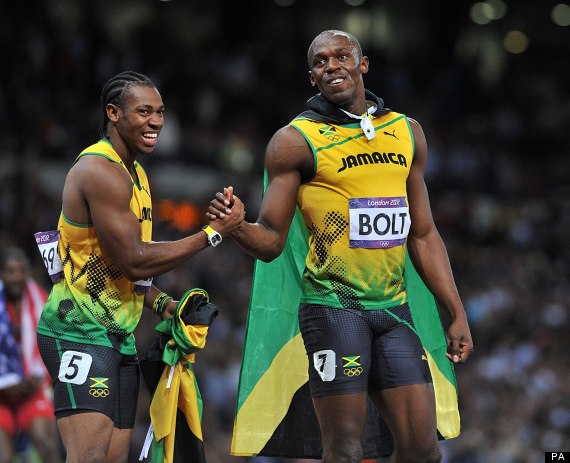 Bolt is congratulated by his training partner and rival Yohan Blake after clinching gold at the weekend
Usain Bolt: The Movie (released Monday 6 August on DVD, timing being everything) follows the extroverted athlete as he prepares to defend his title, including the disaster that befell him at the World Championships. It's a revealing portrait - here are just ten of the things I've learned about the Jamaican phenomenon...
Usain Bolt is 6'5". To maintain his 220-pound physique, he does weight-training sessions lasting 90 minutes, three times a week.
Since 2003, he has had an Irish agent called Ricky Simms. He earns an average of 200,000 euros for each race meeting.
Bolt's childhood was spent in rural Jamica, where cricket was his first love, and Brian Lara his hero. His parents eventually decided he should concentrate on the track, and he reluctantly obeyed and lay down his bat.
Never mind Beijing or London, it was the 2002 World Junior Championships in his home country that Bolt calls, to this day, his greatest moment. Aged only 15, Bolt was lined up against athletes older and more experienced and cried before the event. He had to be persuaded to attend by his family, but went on to win the 200- metre event.
He trains in Kingston, Jamaica, where he lives in a house full of friends working around him – like a Jamaican version of Entourage.

One school friend is his personal assistant, another in charge of his nutrition, which means vegetables cooked on the evening BBQ. Training sessions take place in the backyard pool, where his friends join him – "they're trying to lose weight, for the girls, but it's not working." Evening entertainment is music and dominoes.

Bolt's mother is the only person who can make him cry. "Anything to do with my mum, I'm a real mummy's boy," he admits.
His closest rival, and the man who has beaten him already this season, is his Jamaican stable-mate Yohan Blake. As Bolt sees it, "We're friends, we train together, motivate each other… it's all fun and games. But on the day, it's every man for himself."
At the 2011 World Championships, a false start meant he was disqualified and was forced to watch Blake take the gold.

Three hours later, Bolt admitted, "I pretty much squandered it. But if I didn't get it, I'm happy he did. I've seen him train. He works more hours than me.

"But Manchester United won, so I'm happy."

Oh yes, Bolt is an unequivocal Man U fan. The sprinter is forbidden by his coach from playing football, but often sneaks away to put on his boots and have a kick with his old friends – "This is my audition for Alex Ferguson. I've been playing with these guys for years. I'm safe."
And his speed on the track still leaves his father, the smiling Wellesly, bemused:

"What tasked him to be so fast? Is he here for a purpose?"
Usain Bolt: The Movie, released by Revolver Entertainment, is on sale from Monday 6 August. Check out our gallery of Usain's big moments below...