As Geri Halliwell tucks into her 40th birthday cake today, she has more than the average ginger to celebrate.
Because her landmark birthday coincides with a renaissance of her particular brand of Girl Power, which she helped pioneer back in the 1990s, along with the rest of the Spice quintet.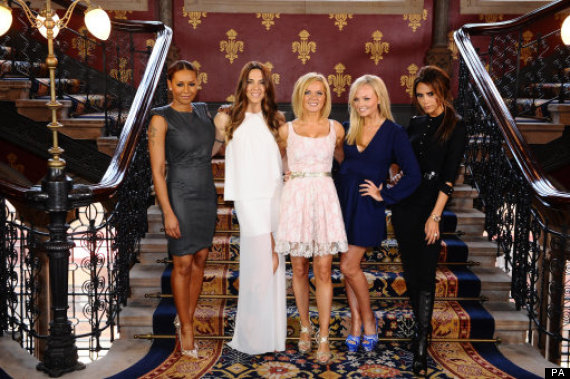 The Spice Girls recently joined up, to launch Viva Forever, the musical based on their songs
It is a badly-kept secret that the glamorous group will be donning mikes one more time to perform at the Olympics Closing Ceremony in London, after several of them voiced their disappointment at missing the Queen's Jubilee.
See the life and dramatically changing styles of Geri Halliwell in pictures below
And the end of the year sees the debut of Viva Forever, a musical penned by Jennifer Saunders, built around the girls' many pop hits.
So it's all good, but the last decade and a half of Geri's life has been lived firmly in the public eye, and it's been a roller coaster. Here are some highs and lows...
1972 - Born and brought up in Watford, north London. Finds work as a dancer abroad, as an overseas TV presenter and glamour model. Saucy shots taken during this period later find their way to mainstream outlets.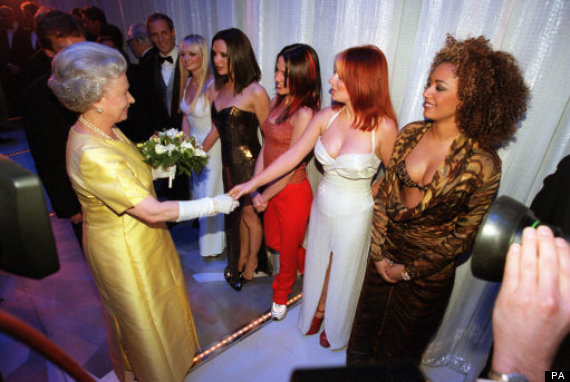 The Spice Girls met everyone and went everywhere for a golden three-year period in the late 1990s
1996 - Joins the Spice Girls, along with Emma Bunton, Melanie Chisholm, Melanie Brown and Victoria Beckhams (nee Adams). Becomes Ginger Spice, and is one of the more extrovert of the set. The band go on to sell 65 million records, and become the best-selling girl group act of all time. Debut single Wannabe is the first of nine number one records in the UK.
1997 - Calls Mrs Thatcher the 'original Spice Girl'.
1998 - Geri leaves the Spice Girls, citing depression, and the breakdown of good relations within the group.
1999 - A documentary is broadcast, showing Geri living in her big house alone, with few friends, the closest of which is her always-present pooch.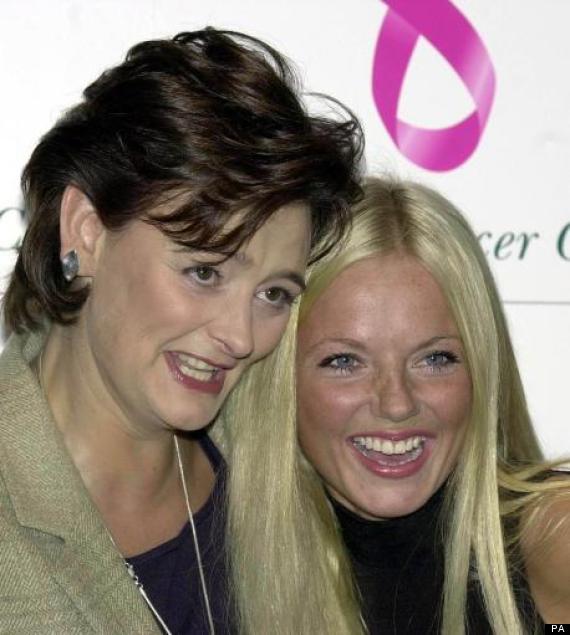 Geri's social circles have been wide and eclectic
1999 - Becomes an ambassador for the United Nations Population Fund.
1999 - Geri has her first solo number one with Look at Me, from the album Schizophonic. Three further number one singles from the album also prove her solo success. Scream If You Want To Go Faster is her second album, with the single It's Raining Men turning up on the Bridget Jones' Diary soundtrack.
1999 - A short-lived romance with Chris Evans is suspected by many of being a publicity stunt, which is perhaps just as well - imagine the hair colour of their offspring, had it endured.
1999 - Geri's first volume of autobiography, If Only, is published.
2000 - An even shorter-lived 'romance' with Robbie Williams, coinciding with them both having new records about to hit the charts. Later, Geri reports they were only ever friends.
2002 - Joins the jury of Pop Stars: The Rivals alongside Pete Waterman. Series spawns Girls Aloud.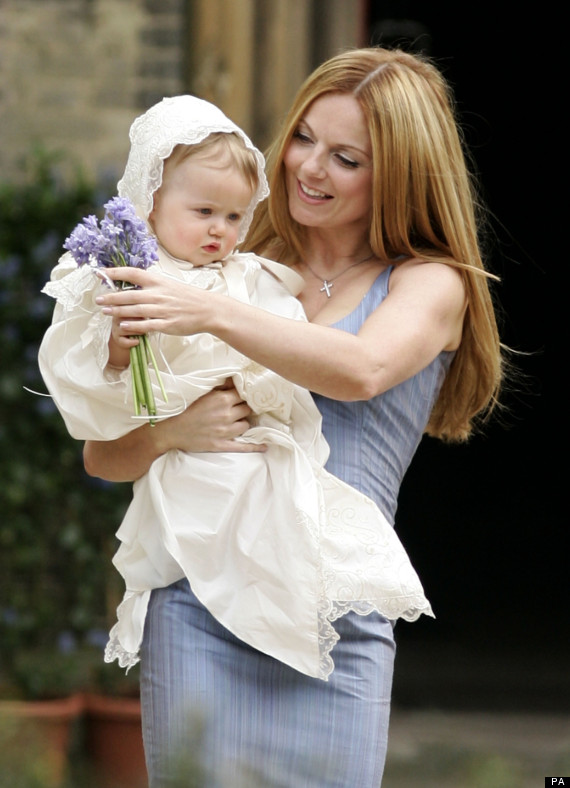 Geri gave birth to Bluebell in 2006 - all five Spice Girls are mothers now
2004 - Geri starts writing Ugenia Lavender, a series of children's books. She is contracted to complete six.
2006 - Gives birth to daughter Bluebell Madonna. Father generally believed to be film producer Sacha Gervasi, although this has never been confirmed by either party.
2007 - Spice Girls' worldwide reunion tour is announced.
2008 - Spice Girls reunion tour brought to an early end, with all five girls citing family commitments.
2011 - Launches own clothing range through retailer Next.
2012 - Guest judge during X Factor auditions.
2012 - Viva Forever announced, with all five girls present at the launch in the same London hotel where their video for Wannabe was filmed, and where it all began.
Wow - that's a busy few years. Happy birthday, Geri!
One woman, countless looks. Here's the life and many, many haircuts of Geri Halliwell in pictures...
The Life and Changing Styles Of Geri Halliwell