An elderly man has died after driving his mobility scooter off a cliff at Beachy Head in East Sussex.
Police confirmed the 81-year-old man had been identified as Victor Newton. His body was retrieved by Royal National Lifeboat Institution crews.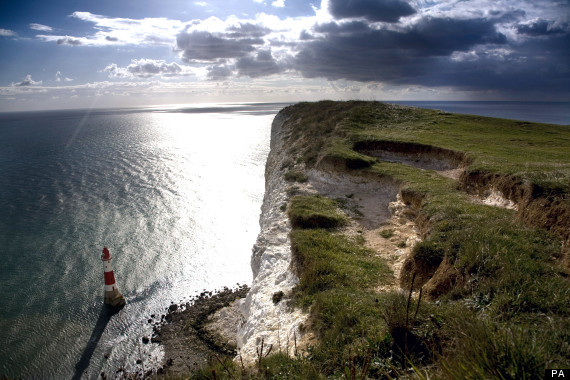 The man drove off the cliff at the notorious suicide spot on Sunday afternoon
A witness to the incident told The Sun, the man kept repeated the words "I'm so tired" before plunging to his death.
"He was very distressed," Student Tom Lyonnet, 16, told the newspaper. "He said, 'I just want to go'. We thought he meant go home — we had no idea what he was planning to do."
Sussex Police received a call from a member of the public at about 2.45pm on Sunday, who said the man and his scooter had fallen over the edge of the cliff-top near the Beachy Head pub in Eastbourne.
A police spokesman said the death of Mr Newton, from Langney, Eastbourne, is not suspicious and that the East Sussex coroner has been informed.
During the first two weeks of July two bodies were recovered from the cliffs at Beachy Head, according to the Beachy Head Chaplaincy Team charity's website.
In June the chaplaincy team was involved in 63 searches and incidents, which resulted in 21 people being rescued.
A statement on its website said: "We were called to 38 searches via Sussex Police. We were also alerted to five searches by members of the public and two by staff of the Beachy Head Pub. During proactive patrols the team came across a further 18 incidents.
"Sadly during the month there were five bodies recovered from the cliffs. One of the deaths was witnessed by our team.
"Our thoughts and prayers go out to the family and friends of the deceased."