Paula Radcliffe wasn't sure whether she'd make it to the London 2012, as a spectator.
Earlier this year, the 38-year-old marathon world-record holder, who saw her London 2012 dreams demolished when osteoarthritis flared up in her left foot, felt sure the heartbreak of missing her chance to win an Olympic gold on home soil would make it impossible.
"I wondered if I even had the courage to come into London -- but I'm glad I made it," Radcliffe tells Huffpost Lifestyle. "It's been really, really hard. I'm not over it yet and it will take a long, long time before I will be.
Paula Radcliffe after finishing the Women's Marathon at the 2008 Beijing Olympics
Yet, when Mo Farah ran to glory on Super Saturday, she was in the stands to cheer him on.
"I went to see Mo. To be in the stadium for him and all the others competing. I'm incredibly proud of Team GB and the Olympics that we've put on.
"I'm now glad that I went, because I wouldn't have had that sense of joy, if I'd stayed at home."
"I've see Mo grow from mischievous boy to really mature athlete. Watching him, for me personally, has definitely been the highlight of the Games."
The mother-of-two, and current marathon world record holder, is now keen to focus her energies on passing her love of sport, not only to younger members of Team GB, but young people across the country.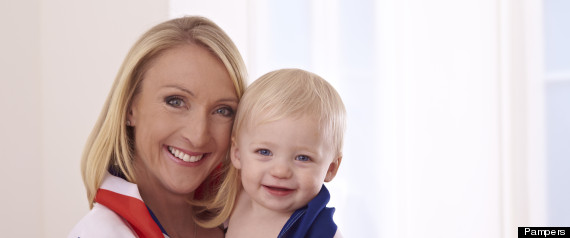 Paula Radcliffe poses with son Raphael, 18 months, to launch the 'Pampers Little Athlete'
"It's vital all children get the opportunity to involved in sport from early age, and we should encourage children as babies to become active because that's how they learn and develop," says the face of the Pampers Little Athletes campaign.
"I think getting rid of competitive sport in schools was the stupidest thing ever suggested. Every child is naturally competitive. It's a vital to channelling sporting instinct in a healthy and fun way."
No-one told my five-year-old daughter to race up the stairs. But she's always got to be the first one to the next level.
"If she's riding her bike, she wants to be the fastest and if she's swimming, she's got to be the quickest."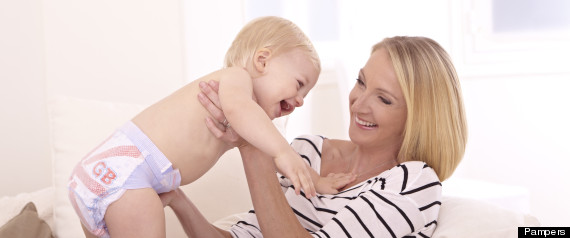 Paula Radcliffe poses with son Raphael
Radcliffe says attending athletics club outside of school hours enabled her competitive instinct to be honed: "School shouldn't be trying to suppress it.
"It's a time to allow children to have that time to try different sports, perhaps ones they've seen in the Olympics.
The intense spectacle of London 2012 has become easier for Radcliffe, she admits, since Ethiopia's Tiki Gelana won the women's marathon last Sunday.
"I do think that I was in shape to be in the front pack towards the closing stages," she tells Huffpost Lifestyle. "In the build-up I was in better shape than for Berlin."
"People were predicting big things for the Kenyans and Liliya Shobukhova, but on the day none of those things happened. The Kenyans weren't in such great shape and Shobukhova dropped out early.
"Of course you never know how the conditions would have been for you -- but it would have been an easier race for me to watch, if they had finished in an incredibly fast time. I would have known that I wasn't in that kind of shape. But as it was...
"I think I would have had an outside shot."
Paula Radcliffe is supporting the Pampers Little Athlete campaign – to find out more, go to the Pampers UK & Ireland Facebook page.
Team GB's Top Olympic Sportswomen