If you're arachnophobic you should probably look away now. For peering back at you from the inside of one unfortunate woman's ear is a rather miffed-looking spider.
Doctors were left with the challenge of extracting the spider while trying to ensure it would not burrow deeper or even bite the woman.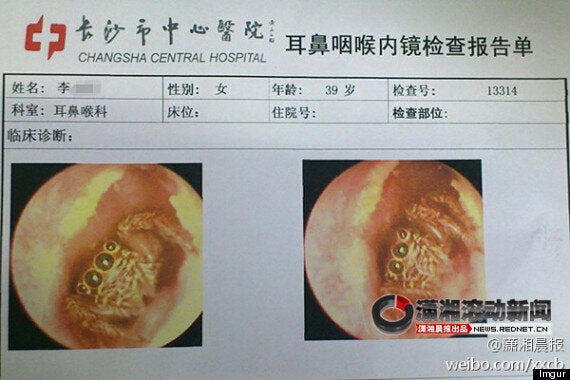 Incy wincy spider: The arachnid peers out of a Chinese woman's ear canal
After much discussion it was decided to fill the woman's ear with saline, in the hope the spider would come out of its own accord, the Xiaoxiang Morning News reported.
Thankfully the plan worked and Dr Liu Sheng was able to give the good news to the patient, who promptly burst into tears of gratitude.
It later emerged the spider had probably been living in her ear canal for up to five days and may have crawled in while she slept in her home during renovations.
Related