Every actor you interview about a part will tell you - often before you've sat down - all about the better parts of the character they're playing, why they might be murderers, seducers, all round bad boys, but that doesn't mean they're awful, just misunderstood...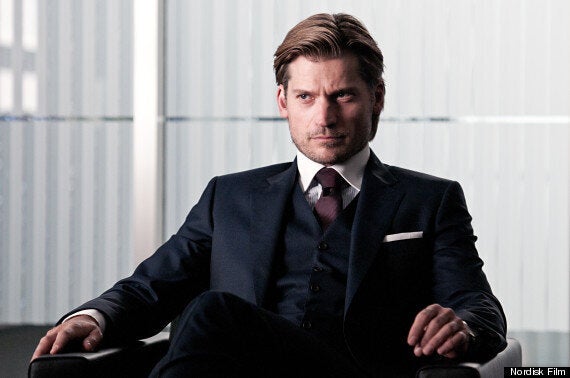 Nikolaj Coster-Waldau is impenetrable as Clas Greve in Headhunters
Not Nikolaj Caster-Waldau. He makes no justification for Clas Greve, the charming but ruthless assailant sent to test poor Roger Brown in the hit Norwegian thriller Headhunters (DVD release Monday 13 August).
It's all going so well for Brown, played with a galling intensity by Norway's number one box office star Aksel Hennie. He's married to the disparately glamorous Diana, funding her lifestyle with his job as a star recruitment consultant, supported by a bit of art-theft on the side - until he steals a supposed masterpiece from the wrong man, Mr Greve, and all hell breaks loose.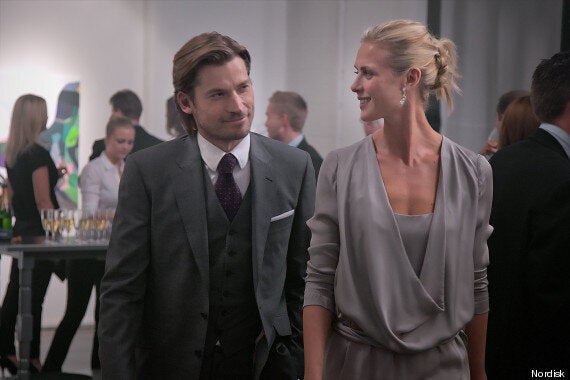 Clas Greve has his eye on Diana, much to Roger Brown's consternation
Coster-Waldau, an increasingly recognisable face for his role of Jaime Lannister in HBO hit Game of Thrones, can find "nothing in Greve's childhood to excuse him, there's a bit more in the book, but I think he's more there to serve the purpose of the story.
"This is clearly a broken man, ridiculously driven and ambitious, he'll do anything. He loves dogs! There you go... he's really good with animals. He only went so berserk because Roger Brown killed his dog."
Clas Greve and Roger Brown seem very well-matched as they play out their cunning game of cat and mouse in the stylish houses and bleak but beautiful landscapes we've come to associate with Scandinavian crime stories, but Coster-Waldau admits it was Hennie who ran the hard yards:
"Aksel plays this guy, Roger Brown, he is very dedicated. By the time we shot the sequence where he has to hide (in the compost of an organic toilet shed, yes as yucky as you'd imagine), it was October in Oslo, it was freezing in the forest, and he was literally naked jumping into this pool of oatmeal, water, coffee and bits of food. He had a tiny little heating element to heat it up, but that didn't work, so... poor guy."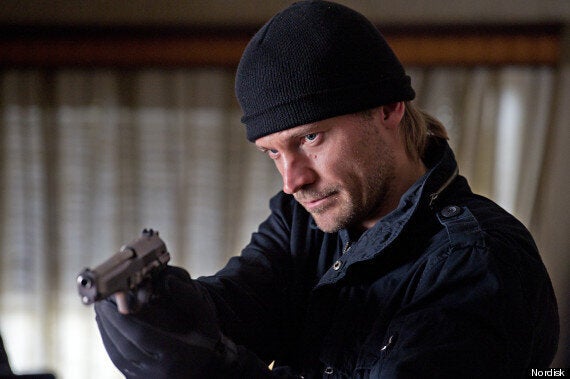 What is Clas Greve's beef? Coster-Waldau makes no excuses for his character
Away from the cameras, Coster-Waldau is equally happy to surrender any alpha-male status over to Hennie:
"You can't compete with Aksel, he is the ultimate alpha male, everything is extreme. He will climb up the wall, jump out of aeroplanes, while I'll have a latte in the corner."
Coster-Waldau, one of the shiniest of the new crop of stars emerging from this region of the world, is as bemused as anyone by the enduring success of Nordic Noir, both on the big screen and TV:
"When I was growing up watching American TV, every time you heard the British accent, you knew that was the bad guy," he remembers. "Now in Scandinavia, you hear a Danish accent and that's the villain."
Personally, he credits our tireless hunger for this region's crime stories to the vision of Stieg Larsson, behind the Dragon Tattoo trilogy - "it's so dark, and perhaps people have an urge for extremes."
Coster-Waldau's own career is going from strength to strength. As well as his ongoing role in Thrones, he has two high-profile films in the can, Mama with Jessica Chastain - "so talented, I know she'll outshine me" - and sci-fi epic Oblivion, where he joins Tom Cruise and Morgan Freeman.
"Tom Cruise was great, very, very sweet, very giving, dedicated... and then you hear the voice of Morgan Freeman, and you just collapse.
"I know I'll be the worst thing in the film, but I don't care.
Headhunters is released on DVD and Blu-Ray on Monday 13 August. Watch the trailer below...