"Chuffed to bits," is how Gary Kemp feels with the realisation that a song he wrote when he was barely out of short trousers has become the default anthem of the London Olympics.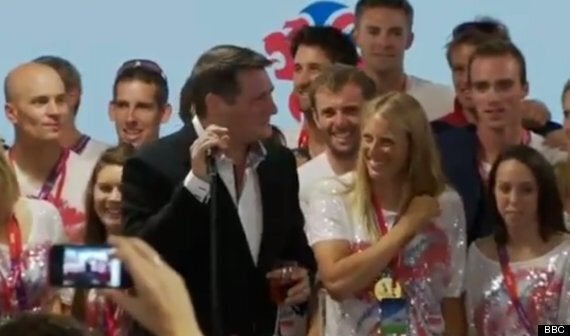 Tony Hadley performs karaoke to his own Spandau Ballet song, Gold, for the pleasure of a delighted Team GB
Never mind any techno wizardry or specially-commissioned rock 'Musings', it is Spandau Ballet's Gold that has summed up the mood of the nation as we have rocketed up the medals chart over the part fortnight.
On Olympics Tonight, the BBC's late-night offering, it was the music that cued star guests walking across the studio to move the flimsy arrow ever further up the Blue Peter-style medalometer.
And last night saw lead singer Tony Hadley make his way to GB House and perform it, without instruments, for the athletes... watch this karaoke-fest above.
"Half of them must have wondered who that old man was singing was," muses Kemp.
And this morning on Absolute Radio, breakfast host Christian O'Connell persuaded his bosses to let him play the tune a staggering 29 times. Surely that must have got a little tiring, even for this triumphant nation?
"They mixed it up, once for each medallist," Gary admits. "They had David Tennant read some of the lyrics on one occasion, and Newton Faulkner came in to perform an unplugged version. So at least it was a bit varied."
The song was written nearly three decades ago, when Kemp and his Spandau Ballet pals were in their pop prime, and the band's chief songwriter decided to get ambitious.
"To be honest, I was really trying to write a Bond theme," Kemp reflects now. "I was influenced by all those East European instruments, and trying to sound like John Barry.
"It's an anthemic piece, all about being in love, getting your heart burned, but keeping going."
As it was, Gold ended up being Spandau's biggest-ever pop seller, behind their big ballad True, written around the same time. Why were those years so prodigious for Kemp as a songwriter?
"I just think when you're that young, and in love, you have no cynicism," he explains.
"So when you get your heart broken, there's nothing like it, you have no way of dealing with it, and that's great for creativity. It's a great time in your life to be a writer or musician, or creative in any way.
"I always thought True would be the one that killed it in concerts, but it's actually Gold. Apparently, they play it last thing at night, use it to clear student union bars, so there's obviously still some life in it."
Besides his accidental starring role, Kemp has been as wrapped up in the Olympics as everyone else.
"All my middle-class friends told me it was time to leave town, but I thought there's been no better time to be there, and soak up the atmosphere. I just hope we can find a way of channelling all this good humour and keep it going."
Come on Gary, just always believe in yourself, surely...
PS Yes, I did ask him if he was going to be watching his brother Martin in the forthcoming Celebrity Big Brother lineup. Apparently... he knew nothing. He could only say for sure, "It's not me."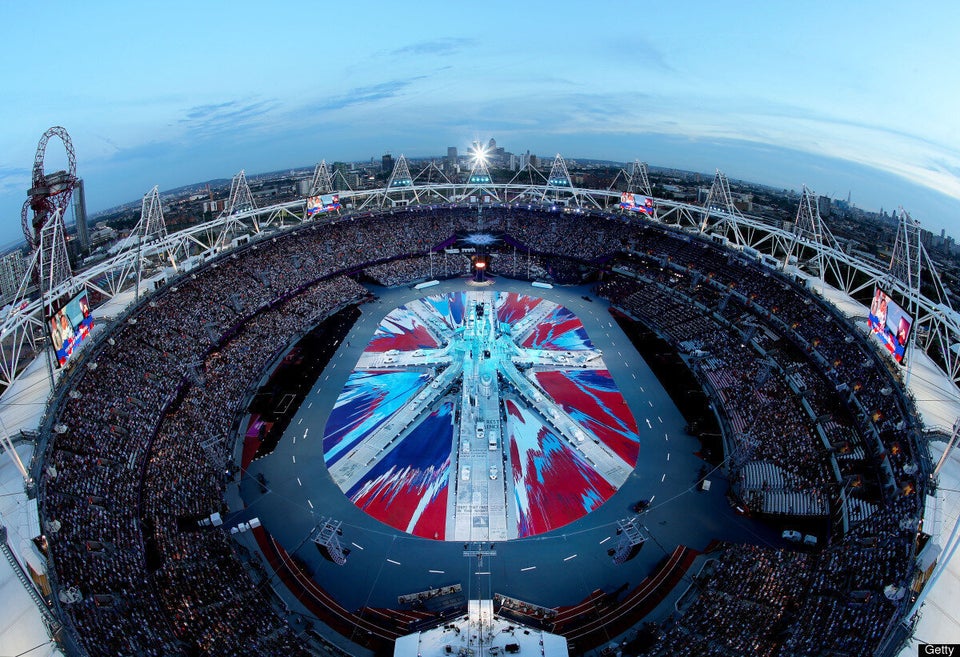 Olympic Closing Ceremony London 2012