The BBC have released 20 first look photos from Doctor Who series seven, showing the return of some frightening enemies and a preview of Amy Pond's departure from the show.
Speaking at a screening for the new series on Tuesday night, Doctor Who supremo Steven Moffat has said it was an "easy decision" to bring back the Daleks for the new series.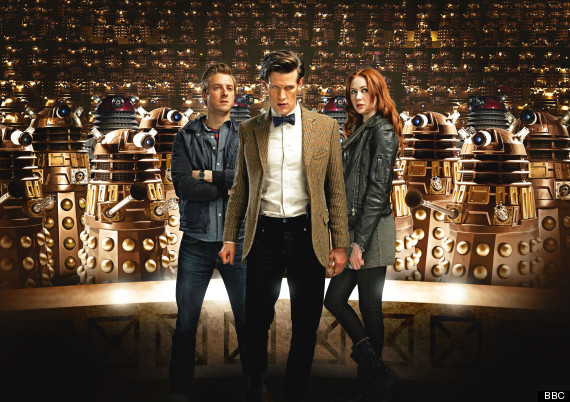 Arthur Darvill (Rory Williams), The Doctor (Matt Smith), Amy Pond (Karen Gillan)
He said the croaky-voiced villains "sum up the whole series just by being there".
And added: "We've been off the air for longer than usual, so it was an easy decision to come back with Doctor Who at its most iconic and that means Daleks, lots and lots of scary Daleks."
The new series also sees the Timelord, played by Matt Smith, get to grips with dinosaurs, and hitching a ride on the back of one of the creatures caused him a few problems.
He said: "I had to wear padded trousers. Dinosaurs are a lot lumpier than horses, so it was a painful couple of hours, a laugh though and definitely worth it as it's going to look great."
Watch a video interview with Matt Smith above.
The new series will also feature a range of guest starts including Steven Berkoff and Jemma Redgrave.
PHOTOS: A sneak peek at Doctor Who series 7...