The Celebrity Big Brother housemates only entered the house on Thursday, but already friendships are forming in all corners of the compound.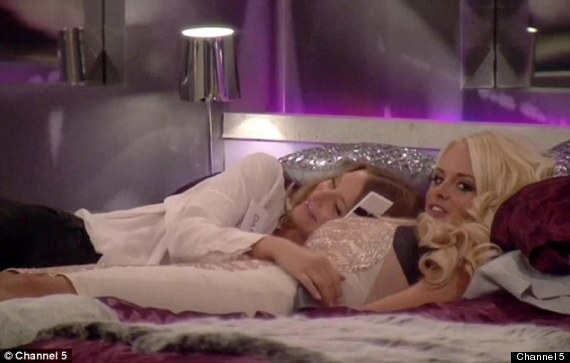 Rhian Sugden and Danica Thrall are two of the housemates who have already formed alliances soon after entering the House
Rhian Sugden, infamous sex texter, and Danica Thrall, lads' mag favourite, quickly joined forces in the double bed, cuddling up to the delight of onlookers and, no doubt, comparing notes on the boos they received on entering the House. Cheryl relaxes in the House pool, alongside Ashley Mackenzie
The pool also proved a natural pal-making patch for the unlikely duo of Team GB judo-ist Ashley McKenzie and EastEnders alumna Cheryl Fergison.
Cheryl had earned the right for a good wallow in the water, having completed the very first task of this season's challenges the previous night, alongside fellow soap diva Julie Goodyear.
The pair were charged with creating a night of drama for their surprised housemates, persuading their spectators that Julie had previously had an affair with Cheryl's husband.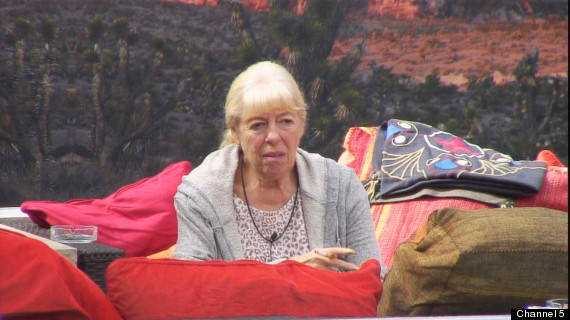 Julie takes it easy in the Garden today, after proving herself in the first task last night
The psycho-drama was something the pair threw themselves into with gusto, culminating with Julie pouring a pint of beer - she's used to pulling pints as former landlady of the Rovers Return - all over a bedraggled Cheryl, before revealing the nature of their task to a surprised bunch of housemates. "I've still got it," reflected Julie.
Prince Lorenzo (formerly on US show The Bachelor) took his chance to make the acquaintance of Jasmine Lennard - not an encounter that would probably happen outside the house - and they struck up chat about star signs. It turned out the Prince just happened to be the sign (Gemini) that Jasmine was most attracted to. Who knew?
In other news below...
Celebrity Big Brother Days 1 and 2...
Judo Olympian Ashley offered to show the sedate Julian Clary some of his moves. "I have brittle bones," Julian replied.
Rhian could be finding it all a bit awkward. Following revelations that she swapped text with the married Vernon Kay, it has transpired that fellow House inhabitants include Samantha Brick, who once wrote a negative newspaper column about her, and Coleen Nolan aka the best friend of Vernon Kay's wife. As she puts it, "Awkward."
Julian's a little confused already. Asked by Big Brother in the Diary Room to nominate the House's alpha-male, he elected "Ross Kemp. Oh the last one in. Martin Kemp - yep that's him."
Who do you think will win from this lot?
Celebrity Big Brother Days 1 and 2...