At a time when America women are fighting budget cuts to the national health programme Planned Parenthood, Connie Britton (that incredibly familiar actress who you can't quite place <- she's the one from West Wing and Spin City) is offering an alternative way for ladies to deal with their more pressing health queries.
If you need advice about pregnancy planning, Sharon Shoshonnessy, former receptionist at Planned Parenthood could have the answer.
In the new satirical Funny or Die video, Soshonnessy suggests that ladies "wing it" instead.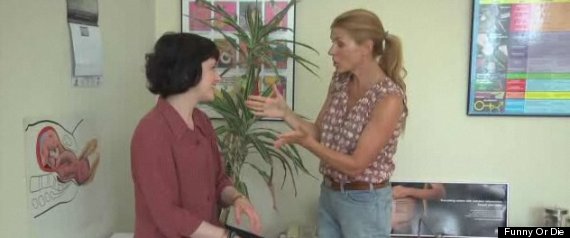 "Even though we don't have funds for the most basic of services, what we are doing now is winging it!" Britton says brightly. "It's exactly the same as Planned Parenthood, but just without the planning."
Instead of mammograms, women's breast are 'squished', ladies who are concerned about being pregnant are advised to 'wing it', and Soshonnessy offers the withdrawal method to men as an alternative to free condoms.
As Britain faces cuts to services, will we see a UK version soon? Comment below