After a tough week which saw her abused in a One Direction fan mag, Caroline Flack was well and truly letting her hair down at V Festival yesterday.
Keen to make up for their crazed fans' behaviour, the 1D lads helped cheer The Xtra Factor presenter up as they partied together in the exclusive Virgin Media Louder Lounge at the event in Chelmsford, Essex.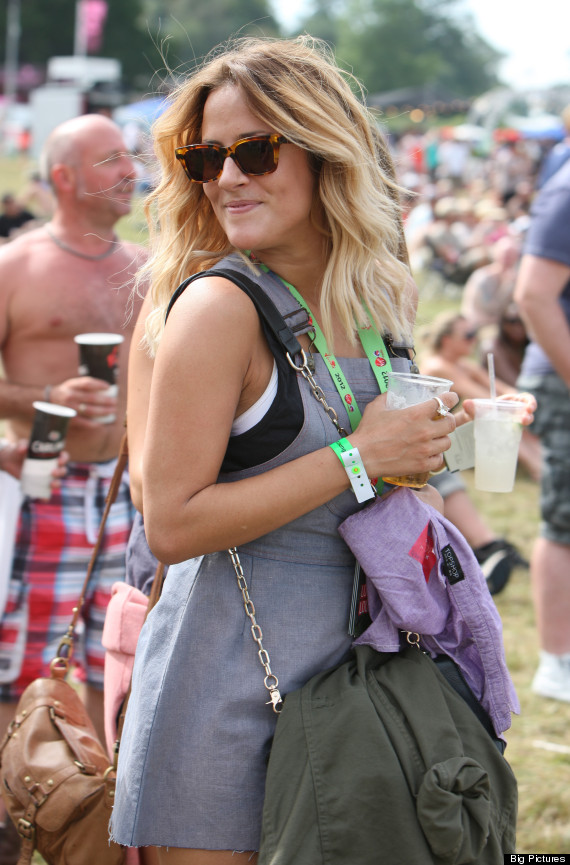 Caroline was all smiles at the V Festival in Chelmsford, Essex yesterday.
However, there was no sight of her former lover Harry Styles, so it was up to Louis Tomlinson and Niall Horan to show that there were no hard feelings as they caught up over a few drinks.
A festival go-er told us: "A lot of people thought it would be a bit awkward if Caroline bumped into One Direction after everything that happened with Harry and what was printed in the fan magazine last week but they were like old friends.
"Louis gave Caroline a big hug when he and Niall walked up to her group of pals. There was lots of laughs and banter and they were certainly making the most of the free bar together. Caroline was also seen having a drink with a group of Xtra Factor producers.
The source added: "Caroline had a long girly natter with Louis' girlfriend Eleanor Calder. They probably had a lot in common both knowing what it's like to date a member of the world's hottest boyband." Louis Tomlinson and girlfriend Eleanor Clader were inseparable over the festival
When HuffPost Celeb spied Cazza in the queue for dinner (she had mac and cheese, if you're interested), we quickly accosted her and she was buzzing about The Xtra Factor returning to our screens.
Saturday's episode of the ITV2 spin-off show saw Olly Murs give Caroline a lesson in how to be a popstar, and she loved it so much she's now considering becoming one full time.
After Nicki Minaj was forced to pull out of her festival performance, Caroline giggled: "I would have loved to have stood in for Nicki but unfortunately the call never came."