Benedict Cumberbatch is relieved to set the record straight on how he's apparently "down on Downton", revealing a private joke got taken completely out of context.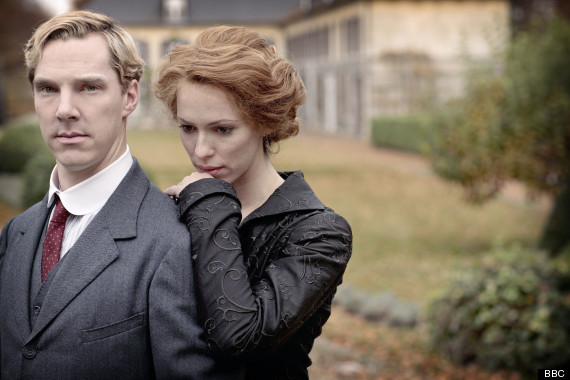 Benedict Cumberbatch with Rebecca Hall in Parade's End
"What I actually said was a joke with Rebecca Eaton (producer of Downton), in full Sherlock mode," he explained in London recently. "I told her, 'be gone, woman.'
"I don't speak like that. I don't say 'Be gone' and I don't call a woman 'Woman,' and anyone who knows me would know that, including (Downton cast members) Dan Stephens, Michelle Dockery, Julian Fellowes himself, Hugh Bonneville.
"All these people are my friends, they would just laugh when they read it, but it was just taken the wrong way.
"I did think the second series did fall off a little bit, but half the cast said the same thing. But what he does is great, taking incredibly complex storylines and puts them in a soap and drama that keeps you hooked. It's good Sunday night telly."
Despite the press circus of a throwaway line, you can tell the Sherlock star is delighted to be part of Parade's End, starting tonight on BBC2, a drama that could never, despite its glamorous cast and big-budget production values, be called soapy: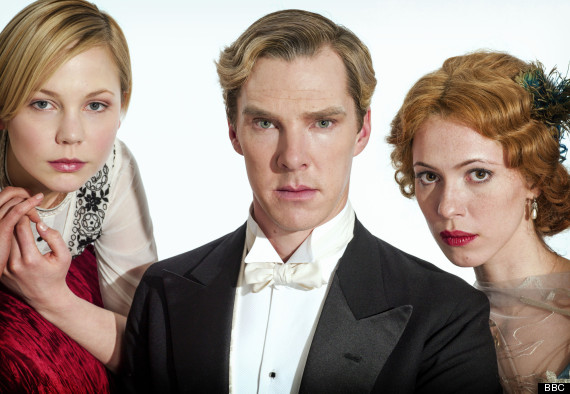 Parade's End tells the eternal story of the love triangle - Valentine, Tietjens and Sylvia
"I read Tom Stoppard's script, thought 'this is quite rich stuff,' and then I read the books, and realised that he'd made a wonderful, witty simplification of a very complex quartet, and I completely fell in love with the detail of it, and Ford Madox Ford's view of this world imploding in on itself, sacrificing eight million people for the sake of two, the ironic headline of the First World War."
What Tom Stoppard has achieved is to pull the complex, multi-layered saga of Ford's four-novel series into a compelling, linear five-part drama, telling the story of Christopher Tietjens (Cumberbatch), his disenchanted wife Syliva (Rebecca Hall) and the lure of his growing love for a feisty suffragette Valentine, played by newcomer Adelaide Clemens. This love triangle becomes the prism through which we view the decline of the aristocratic society, amid the looming shadow of the First World War.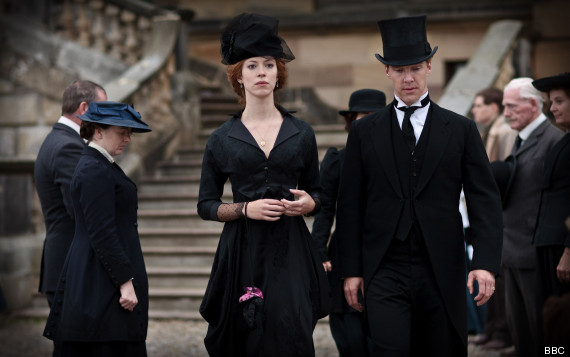 Love but no communication for Sylvia and Christopher Tietjens
At the heart of it all is Tietjens, a well-considered civil servant, a soldier in waiting, but above all a man who strives to be good, whose emotional reserve, lack of inclination to express, nods to a bygone long-pre-Twitter age, long before even the chest-beating of Downton's more sentimental men-folk.
But we should not be fooled. Behind Tietjens' preoccupation with noting mistakes in the Encyclopaedia Britannica, his focus on practical matters in the wake of his wife's constant cuckolding of him, lies a big, beating heart, something Cumberbatch admires hugely. He reveals:
"I completely fell in love with Christopher Tietjens, the most long-suffering and adorable character I've ever played. His code of conduct is very out-moded, but admirable, isn't it?
"I think he has many admirable qualities I'd like to siphon off into my life."
Parade's End starts tonight at 9pm, BBC2. Here are lots of beautiful pictures to get you in the mood...