Reading manager Brian McDermott was "disappointed" Fernando Torres' winner stood despite the Spaniard being a "a clear yard offside" during Chelsea's 4-2 Premier League win against the Royals on Wednesday night.
Torres tapped in from Ashley Cole's cross at the far post whilst ahead of the penultimate opponent in the 81st minute to regain the home side's lead.
Branislav Ivanovic went on to double the margin in stoppage-time but Torres' goal was yet another addition to a growing catalogue of luck the Blues have benefitted from on home soil.
Offside winners late in the domestic campaign have separately occurred twice in the past two campaigns, but the Champions League winners' luck was in earlier on Wednesday night.
Salomon Kalou struck in the 89th minute when Tottenham Hotspur visited in April 2011, as Carlo Ancelotti's team kept alive their slim hopes of a second successive Premier League title.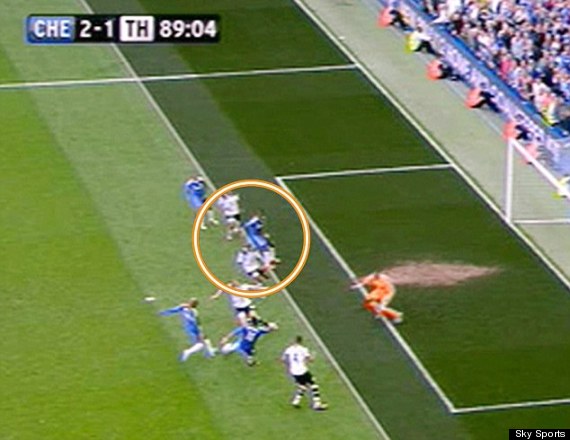 Kalou strikes in the 89th minute
Last season, Wigan Athletic were furious when when Ivanovic gave Chelsea the lead despite standing in an offside position.
Although the Latics went on to equalise, as they engineered an attack seeking a winner Ivanovic struck Shaun Maloney off the ball and carried on his defensive duties to clear an effort off the line.
Chelsea raced up the other end and Juan Mata netted a 90th minute winner while Ivanovic would be retrospectively banned for three games.
And that's not withstanding the two 'ghost goals' Chelsea were awarded against Spurs in the aforementioned league match and last term's FA Cup semi-final.
Manchester United have felt hard done by at Stamford Bridge in recent years too. Wayne Rooney mouthed "Twelve men" after a 1-0 defeat in November 2009, when referee Martin Atkinson adjudged Darren Fletcher to have fouled Ashley Cole when he had played the ball. John Terry scored from the resultant free-kick as an offside Didier Drogba tried to make contact (ergo, he is "active") whilst fouling Wes Brown. Terry's header was the winner.
Astonishingly, Atkinson was selected for the same fixture the next year. Several Chelsea fouls were ignored, with serial offender Ivanovic escaping a booking while David Luiz was not sent off or censured for either one of two fouls on Javier Hernández and Wayne Rooney, having already been yellow-carded.
Sir Alex Ferguson described the winning penalty awarded as "soft" and bemoaned after the match: "You want a fair referee, or a strong referee anyway - and we didn't get that."