BBC One's new sitcom Citizen Khan has received around 200 complaints, the Daily Mail reports.
The family-based sitcom, set in the capital of British Pakistan - Sparkhill, Birmingham, has been accused of "taking the mickey out of Islam", being guilty of "stereotypes about Asians" and being "disrespectful to the Koran", according to the newspaper.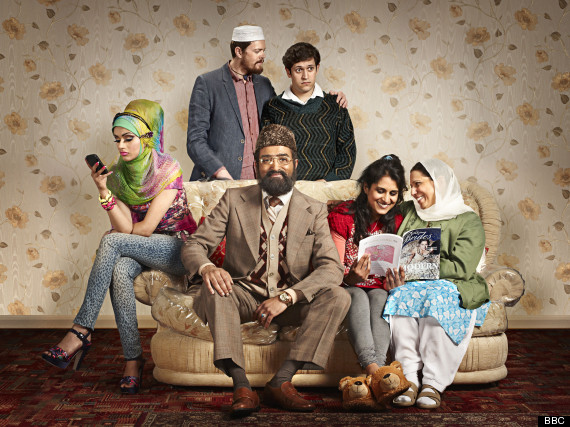 (L-R) Alia (Bavna Limbachia), Dave (Kris Marshall), Mr Khan (Adil Ray), Amjad (Abdullah Afzal), Shazia (Maya Sondhi), Mrs Khan (Shobu Kapoor)
The BBC show's blurb reads:
Citizen Khan follows the trials and tribulations of loud-mouthed, tight-fisted, self-appointed community leader Mr Khan (Adil Ray) and his long suffering family...

Mr Khan is a larger-than-life character, with strong opinions and big dreams. The challenges he faces are those of many fathers - how to make ends meet, keep his wife and daughters happy and impress his daughter's future in-laws. Things would be so much easier if everyone just listened to him and followed his lead, but his obsessively house-proud wife and two feisty daughters usually have other ideas.
The series has been created by British Muslim Adil Ray, who also plays the lead role of Mr Khan. Explaining the concept of the sitcom, he recently told This Is Staffordshire: "I remember when Goodness Gracious Me first came on the radio. I thought, 'Wow, this is so strong that we're laughing at ourselves.' It was iconic and utterly brilliant.
"The biggest, most important, thing you can do is laugh at yourself.
"You then negate anything anybody can ever do. It's the ultimate weapon. If you can laugh at yourself, it doesn't matter what anybody says to you as you're laughing already."
One viewer wrote on Twitter:
While another said:
In a statement, the BBC have defended the show. They told the Daily Mail: "Citizen Khan has made a very positive start, launching successfully with 3.6million viewers and a 21.5 per cent share in a late-night slot.
"New comedy always provokes differing reactions from the audience. The characters are comic creations and not meant to be representative of the community as a whole."
SLIDESHOW: What's your favourite TV sitcom family?