There's a moment in Jumpy when its star, the middle-aged, life-weary Hilary played by Tamsin Grieg asks where the empowered feminists of her 80s youth have gone.
It's the question that this sit-com-esque play tries, noisily, to answer - and it sums up why the production is so well-timed for right now.
With issues surrounding gender equality dominating the news, whether it's in reference to sport, the FTSE 100 or more recently, rape, 2012 feels like an important time for feminism.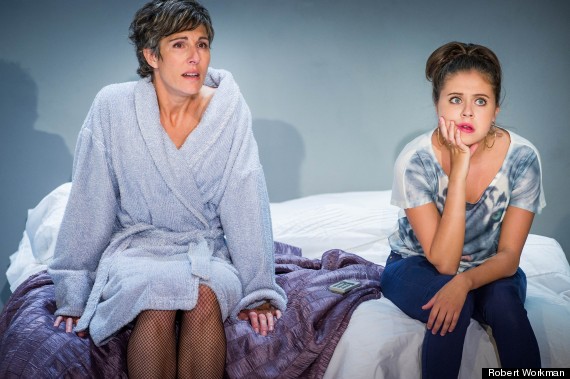 And it's women who dominate this play. Sure, the cast is an even enough gender mix, but while both men and women suffer mid-life crises, teen pregnancy and marriage breakups, the men tend to be comedic foils for the women as they embark on shouting, brazen interpretations of their femininity.
The over 50s - Greig, her comically sexualised co-star Doon Mackichan and the icey businesswoman Amanda Root - are foiled by the scantily-clad, easily led teens led by Bel Powley as Hilary's daughter Tilly and Seline Hizli as her pregnant friend Lyndsey.
The contrast between Hilary's concept of rebellious youth - camping out with 30,000 short-haired women in 1980s peace camp Greenham Common - and that of her daughter ('ironic' guns, night clubs and sleeping around) is often played out to excruciating levels - at times I feel as if I've unwittingly stepped into a middle-class episode of Jeremy Kyle.
And while the political elements of female empowerment are wrenched open and spewed all over the stage, the more pressing issues seem under developed. Why leave the issue of teen pregnancy and its results to a cliffhanger and a scene change?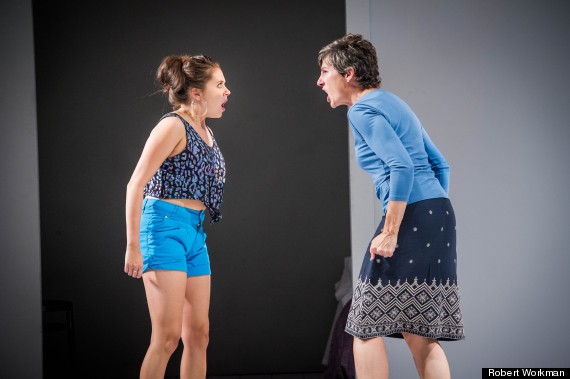 Sex, however, ripples through the play to brilliant effect. From the lack of it in a middle-aged marriage, to parental attempts to control it happening between underage teens, Jumpy's deconstruction of sex manages to encapsulate the play at its best, making you laugh embarrassingly loudly at one point, before goosebumping with emotion seconds later.
Jumpy's very funny. A riot, in fact. From the quick, showy big jokes for laughs - invariably delivered expertly by the cast - to those created by clever direction; Hilary preceding her stage entrance by kicking her bike helmet across it, the mirror of inherited mannerisms and, of course, Mackichan's 'sexually controlling' dancing - which one would have to be dead not to enjoy.
All in all, a rollicking good show. But it could have been a better one had more subtlety been applied to the female bonds the play addressed so brusquely. Thankfully, the play's resolution helped address this problem, and it's worth going to see for that alone. And the dancing, of course.
Jumpy is currently showing at the Duke of York Theatre, London.